Warren Cantrell is at the 2012 Seattle International Film Festival seeing as many movies as he can and filing reviews and reports as he goes.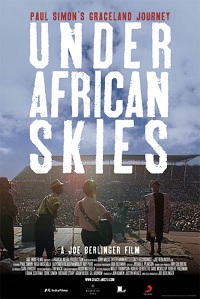 It's a wonderful thing when apolitical entities like artists or athletes find their own independent footing in a social or political avalanche, creating a bridge for members of a conflict to regain their own traction.  Americans remember Jesse Owens whipping a little Nazi ass at the 1936 Olympics, along with the 1980 U.S. Hockey team taking home the gold after upsetting the Russians in the semis; similarly, many South Africans fondly recollect the 1995 Rugby World Cup, one that acted as a catalyzing force for a nation torn apart by half a century of heated racial tensions.
Music can also act as this bridge, and can unite people beneath an all-encompassing banner that is blind to the trivialities of politics.  Director Joe Berlinger's documentary, Under African Skies, certainly believes so.  It concerns itself with Paul Simon's 2011 trip to South Africa to reunite with the musicians he gathered together twenty five years earlier to create his seminal pop album, 'Graceland,' which the documentary argues had a lasting social, political, and artistic impact.  Much more than a simple reinvention of an artist and his musical range (though it was that as well), 'Graceland' was also a powerful gesture that said more than even Paul Simon realized when it was released in 1986.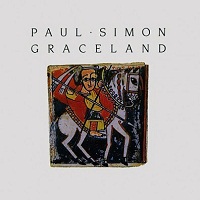 As the documentary opens, a viewer gets the sense that they are in good hands, for the statements being delivered about 'Graceland' and its importance are uttered by fairly reliable talking heads that include Oprah Winfrey, Quincy Jones, and David Byrne.  Early on, Paul Simon also remarks that 'Graceland' was "the most significant achievement of my career," which is one hell of a statement considering the source.  Under African Skies certainly isn't short on praise from a number of luminaries from a musical community spanning multiple generations, for Paul McCartney, Peter Gabriel, Philip Glass and Vampire Weekend all speak to their admiration of the album, and its fearless blend of traditional American pop with South African rhythms and melodies.
Yet this isn't a stroke piece.  No.  Unlike We Are Legion, another documentary showing at this year's Seattle International Film Festival, Under African Skies doesn't set out to simply glorify and sing the praises of Paul Simon and that artist's work on 'Graceland.' Indeed, with all the high-end testimonials endorsing its brilliance, this would have been tantalizingly easy, yet director Joe Berlinger did an amazing thing: he went after the story.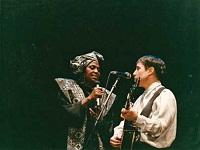 When Paul Simon decided that he wanted to go to South Africa in 1985, the singer-songwriter admits that he had no idea what he was getting into.  Speaking about the experience in 2011, the documentary gives a fair amount of time to Simon, who reflects on his naïveté a quarter of a century earlier in thinking that he could simply waltz into South Africa and make a record.  Remember, the Apartheid was still in full swing in 1985, and when Simon made his journey to record with some of South Africa's finest musicians, he was violating a cultural boycott put in place to bring attention to that country's institutionalized racial oppression.
This is where the central thesis of Under African Skies lies, for Paul Simon, though mindful of his unripe ignorance at that time, still believes that he was right to go to South Africa, to break the boycott.  In Simon's opinion, music and art speak louder than embargos and politics; for Paul Simon, the very act of playing music, of treating his band mates as equals and sharing their music with the world: this was a defiant act just as powerful as any boycott.  When Simon released 'Graceland' and it became a wild, unchained commercial and critical success, the musician seemed vindicated, for there was an appreciation and awareness of South African music and politics that would not have otherwise been possible without the album.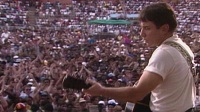 Yet the documentary doesn't let Simon off the hook that easily, for as Dali Tambo (Founder, Artists Against Apartheid) remarks in the film, 'Graceland' acted as a bright-red, shining exception to a rule that was meant to help millions gain their freedom.  By recording the album in defiance of the boycott, Simon undermined the cause, one which he claimed to support.  Though both sides of this argument seem correct in their ethical foundation, it is hard to side against one or the other, something Under African Skies never tries to do.  A celebration of a wonderful album and all the good it eventually did for those who enjoyed it (either in person or at arms length), the documentary contents itself with a tender reconciliation between Simon and Dali Tambo, the former apologizing to the latter for any distress he may have caused.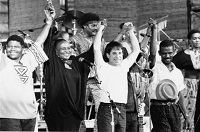 A balanced, insightful, and engaging documentary with stunning footage of rehearsal sessions from the original 'Graceland' recordings, along with concert clips and simple jam session between Simon and his South African band mates, Under African Skies is a treat for anyone even moderately interested in the subject matter.  As the documentary successfully demonstrates, Paul Simon's 'Graceland' might have divided the anti-Apartheid movement in the mid-80s, but its legacy vis a vis racial unity and the diffusion of African culture transcend the album's contemporary heritage, and say a lot about the power of art in this world.
Aside from all that, though, it's also a heck of a lot of fun. For Paul Simon fans looking for a peek into the creation, inspirations, and mixing of that artist's proudest achievement, consider it a must-see.