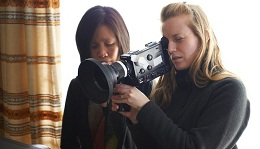 Thursday is the True/False Film Fest's official opening, but Friday is when Columbia, Missouri's surprising gem of a festival really gets the party kicked into high gear.
The weather may have been cold and forbidding, but that didn't keep festivalgoers from lining up for blocks outside venues and participating in events like the flamboyant and fun March March Parade down Broadway.
There were plenty of great screenings, too—among today's offerings were the Oscar-nominated No, and Sarah Polley's excellent Stories We Tell, easily the favorite of the festival with two packed screenings in 1,000-plus capacity auditoriums. Both are examples of the creative and sometimes unexpected programming that makes True/False such a fascinating festival to attend.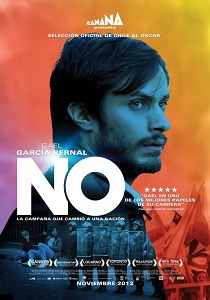 No (2012)
No is something of an oddity for True/False. Among a program of documentaries, it stands out as the lone narrative film. But while No is historical fiction, it is based on the true story of an advertising campaign that helped end the rule of Chilean dictator Augusto Pinochet, and a third of the movie consists of archival footage.
For a festival that enjoys showcasing movies that play with the documentary format and blur the line between fact and fiction, it's a perfect fit.
In 1988, due to increasing international pressure to legitimize his controversial leadership of Chile, Pinochet and his government offered Chileans an opportunity to vote "Yes" or "No" to keep him in power. Both the Yes and No campaigns were allowed 15 minutes of TV airtime each evening during the duration of the campaign process to convince their countrymen to vote.
No tells the story of the innovative and successful "No" campaign, and how they were able to sell the idea of democracy to Chileans. Gael Garcia Bernal plays the advertising executive responsible for putting together the campaign, which ended up looking like this:
What's most notable about No is that it's virtually impossible to tell the difference between the film's scripted scenes and the archival footage from the actual political campaigns and protests. Director Pablo Larrain had cameras specially constructed to match the format of those that shot the 1988 footage. The result is a movie that has a strikingly documentary-like feel to it, in addition to feeling completely authentic to the time it depicts, as though Larrain were truly in the room with the real "No" campaign planners. Even though the film was shot about a year ago, a casual observer could swear they were watching an old VHS tape.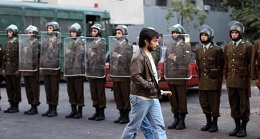 The film focuses mostly on the process of putting together the campaign, but even though it doesn't explore the characters' personal lives, there's still plenty of good drama built in. Bernal's ad agency boss, who's in charge of the "Yes" campaign, is a creepy, realistic villain who comes off like Grand Moff Tarkin in an Oxford shirt and khakis. Bernal and his family are also compelling characters, and while the movie doesn't explore the character's life too fully, its depictions of the danger the "No" campaign puts him in are quite nerve-racking indeed.
As I watched No, I couldn't help but think about what it might have looked like if it had been a straight documentary (due entirely, I'll admit, to my surroundings). The story would have been interesting, but it wouldn't have been as entertaining a film, and definitely wouldn't have gotten as wide an audience as it will certainly enjoy as a fictional film. The movie is a bit like the "No" campaign itself—using a more popular format to present important information. No gives its audience their necessary dose of historical and cultural vegetables, but serves them up in the tastiest way possible.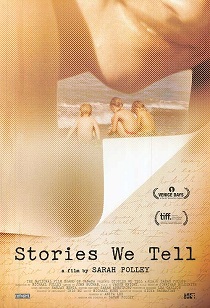 Stories We Tell
Actress and director Sarah Polley's (Take this Waltz, Away From Her) latest film, Stories We Tell, is much more in the traditional documentary vein.
It's an examination of Polley's family history (and particularly the complicated feelings surrounding Polley's late mother, Diane) straight from the mouths of the Polley family themselves.
While someone else's family stories might not seem like the stuff of great filmmaking, there's plenty of entertaining material here. Polley's family is full of interesting characters. Each member of her family is funny, kind and smart, the kind of people you'd like to have as friends. And the story that connects them, which unfolds with a graceful, almost literary pace, is attention-grabbing as well.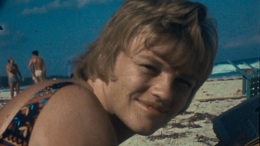 Even though she's got plenty to work with, Polley seems intent on making her story as interesting as possible. It's an effort which sometimes goes to unnecessary and distracting places, like re-created home movies with actors playing younger versions of Polley's parents and siblings, or a sequence where the film takes a turn for the meta, and the director turns the camera on herself … filming her subjects.
Fortunately, these moments turn out to be self-correcting, and Stories We Tell ends up being a very well-planned movie. Polley's got a reason for every choice she makes here, and while those reasons might not always be good ones, it's always apparent that she's put a lot of thought into the work.
The film is, ultimately, a touching portrait of family, memory and shared history that keeps its audience hooked from the first moment, and doesn't let up until the final frame.