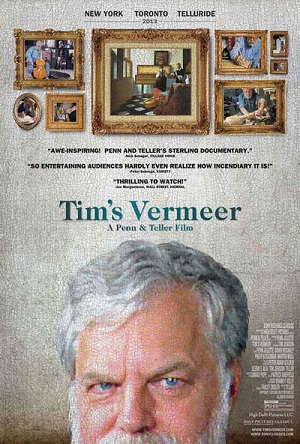 More coverage of the 2014 True/False Film Fest is here.
Tim's Vermeer (2013) – Rock Fist Way Up
Tim's Vermeer is a scientific and comedic take on one of the Dutch old masters, Johannes Vermeer, and how he made the beautiful glowing images we are so familiar with today. Inventor Tim Jenison took his dream that he would paint a Vermeer, and did everything he could to make it a reality. With his background being in computers and optics, he tries to combine technology and art. With a book by David Hockney, Secret Knowledge: Rediscovering the Lost Techniques of the Old Masters, Tim takes his knowledge and tries to apply them to these old master techniques to try and discover a possible method behind Vermeer's photorealistic paintings.
Producer and director Penn and Teller make this easy-to-approach documentary a comedic journey, and explain Tim's process in a way that everyone can understand. This film is filled with laughs and is just an enjoyable film to sit down and watch. The audience is taken through Tim's journey and the painstaking process of what is really takes to make a piece of art.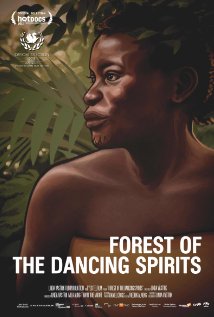 The Forest of the Dancing Spirits (2013) – Solid Rock Fist Up
The Forest of the Dancing Spirits is an in-depth look on a pygmy tribe living in the Congo Basin. The director, Linda Vastrik, lived with the Aka tribe for seven years and documented their society. The work itself is heart felt, mainly focused on the females of the tribe, which based upon their creation myth, men and women were separated in the beginning and remain separate in the tribe. You see the day-to-day lives of what the women of the tribe do, and are witness to a pregnancy that turns tragedy.
At a time where tribes are slowly being driven out of their home lands for resource production purposes, Vastrik sheds light onto the Aka and their persistence to say in the land that they have always called home.  They must endure a lot from their "owners" to try and stay to perform the tasks that must be done to continue on to the next day.