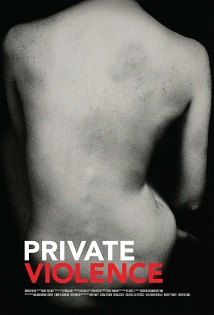 More coverage of the 2014 True/False Film Fest is here.
Private Violence (2014) – Rock Fist Way Up
Directed by Cynthia Hill, Private Violence is one of the most heart-wrenching documentaries that I have seen at True/False Fest this year. It focuses around Kit Gruelle, a previous survivor turned advocate for battered and abused women, and Deanna Walters, a survivor of domestic violence now trying to take hold of her life.
The story is focused mostly around the North Carolina area but the issues reach out over the world. Kit is a great example of rising above your past to help shape a future for yourself. Let me just give you a small laundry list of the things that she does, which were shown in the film: Works at an abused and battered women's shelter, assists in court cases, teaches other women how to become advocates, teaches a course at Duke and UNC, teaches police officers how handle domestic violence calls, among another laundry list of other things I'm sure.
Kit is doing everything she can to help Deanna get the justice that she deserves from her abusive ex-husband, who she is trying to get to serve serious jail time. But it's hard when her ex-husband kidnapped her and abused her across state lines. It no longer becomes a fight for the state but a fight for the federal courts, one that Kit and Deanna are willing endure. Something that this documentary points out, which I feel is important, is that the question, "Why didn't she leave?" is not an appropriate statement to make in any situation for domestic violence. Every case is different and must be handled accordingly. I must applaud the ladies that made this film, it takes a lot of bravery to tell such intimate stories and not be bombarded with the question of, "Why didn't you just leave?"
To find out more about the film or how you can help please visit privateviolence.com.
Ukraine is Not a Brothel (2013) – Solid Rock Fist Up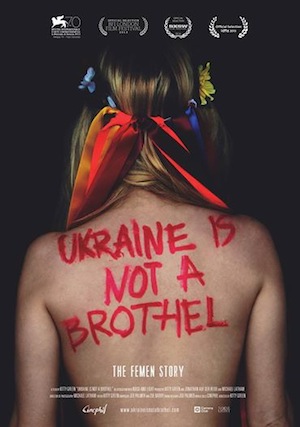 I'm going to hope that anyone reading this is aware of Femen, an activist group originating in the Ukraine to protest sex-trafficking and the hyper-sexualization of Ukrainian women.  You are probably more familiar with their protest antics, which usually include beautiful topless female protestors with feminist slogans written on their bodies or their elaborate street performance protests. Once I said that, images probably popped in your head of the numerous photos that have been taken of these ladies, and you got to give credit where credit is due. They know how to get media attention.
Ukraine is Not a Brothel explores the inner workings of the Femen movement. I will go ahead and admit that when I first heard of Femem I was skeptical.  Something just seemed a little off.  I looked further into it and found protest they were doing back in 2008, so they are real group, but they weren't always topless. This documentary sheds light on a lot of the inner workings and background of Femen in their more recent acts. Director Kitty Green gets down to the nitty gritty with the ladies and exposes a huge secret about the group.  Green also gets a lot of beautiful shots from the protest and of the girls themselves in their natural states.