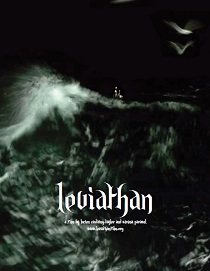 This post is part three in a series covering the 2013 True/False Film Fest in Columbia, Missouri. See all posts from this year's True/False here.
Leviathan
Leviathan is the most metal documentary you will ever watch about commercial fishing. It's full of gritty visuals and ambient noise, and looks a little like an episode of Deadliest Catch directed by David Lynch. The film is composed of a series of simple vignettes of work on a fishing boat in the North Atlantic. There's no narration, no context, and barely any dialogue. Just evocative shot after evocative shot.
There are moments of true visual brilliance in Lucien Castaing-Taylor and Verena Paravel's film that take the mundane and fill it with a palpable sense of dread and death. To give you a sense, the film's best scenes include an underwater shot of a boat that captures chum and starfish swirling around together, and huge piles of fish flopping around a lower deck with bulging eyes and gasping gills.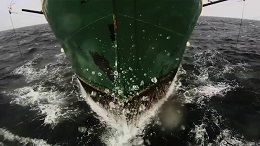 Unfortunately, this is an 87-minute movie, and those moments of brilliance take up only about a third of the film. The rest is devoted to shots that either feel long and pretentious, or suffer from a serious case of ADD, with the camera swiveling in several directions, never settling on a single perspective. And the film's sound design can only be described as abrasive. It's loud and grating, and never once lets up after the opening shot. It seems to exist to create discomfort.
Leviathan is far from a crowd pleaser. A good quarter of the audience at my screening got up and walked out during the course of the film. If I weren't committed to watching the whole movie, I'd have joined them. Leviathan is an excellent short film, trapped in the body of a much larger movie. It wants to be important, but never really surpasses the artistic level of a Goth high-school art student.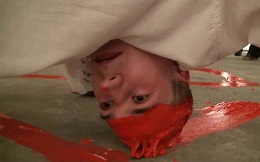 Winter Go Away!
Last year, 10 Russian film students were commissioned by a Moscow newspaper to document the protests surrounding the re-election of President Vladimir Putin, and make a film from what they recorded. Winter Go Away! is the result, an impressive array of journalism and good filmmaking. These talented students managed to cover pretty much everything, from big rallies to opposition party meetings to the infamous Pussy Riot protest in Moscow.
What's most surprising about Winter Go Away!, directed by Graduates of Marina Razbezhkina's School of Documentary Film and Documentary Theatre,  is how entertaining it is. The film's subjects (mainly young protesters) are well-rounded characters. The audience gets to know them and their families pretty well through a series of vignettes leading up to and following two big protests.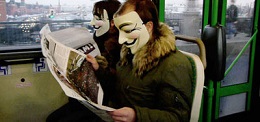 There's plenty of humor here, too, most of it arising from a sense of absurdity and futility surrounding Putin's incumbent (and later victorious) regime. The established opposition politicians shown in the film have moments that feel like deleted scenes from Armando Iannucci's In the Loop.
Although Winter Go Away! Is a very politically-concerned documentary, it's less interested in actual political agendas and more interested in the people who support them. It's a self-deprecating, likeable doc which also happens to be a darn good piece of journalism even established documentarians would have reason to be proud of. These students have produced incredible work, and I hope it's a sign of more great stuff to come from them.