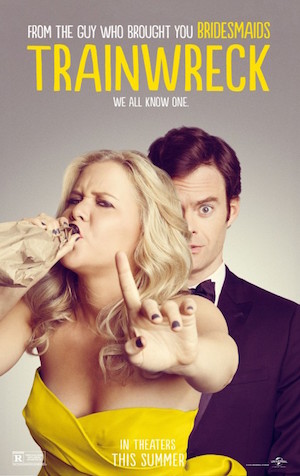 [Solid Rock Fist Up]
This review of Trainwreck appears on Lawrence.com:
The genre of romantic comedy is in a sorry state these days. Besides sporting some of the most interchangeable, clichéd movie titles ever, most of the rom-coms that come out of Hollywood are full of bland writing, are overly contrived and cause their actors to amp up the energy to make up for it.
In last year's That Awkward Moment, Zac Efron, Miles Teller and Michael B. Jordan are three modern Casanovas whose trajectory is so forced that it's obvious from the setup exactly where it's going. The actors, probably sensing how unconvincing their material is, go full-on His Girl Friday, hoping that delivering their dialogue rapid-fire might distract from the fact that it's totally empty.
Also from last year, Sex Tape is a perfect example of the high-concept rom-com, where it's more important that the title be able to explain the entire film (like Friends With Benefits or Just Go With It) rather than approach anything near believable.
Of course the solution to the rut that married couple Cameron Diaz and Jason Segel find themselves in is to make a sex tape. Who wouldn't do that? Once again, the actors end up mugging to make up for a phony premise. This is ironic because it's that easily marketable premise that probably got them green-lighted in the first place.
One of the worst things about Trainwreck, the new romantic comedy from writer/actor Amy Schumer and director Judd Apatow is the title of the movie. Sure, the main character — a magazine feature writer named Amy played by Schumer — has commitment issues and likes to get boozy and have one-night stands, but she's certainly a lot closer to being a relatable person than any of the phonies that normally populate these kinds of rom-coms.
Trainwreck still follows lots of typical rom-com formulas, but it also proves that there is still life left in these formulas, as long as there is true chemistry and tiny subversions along the way.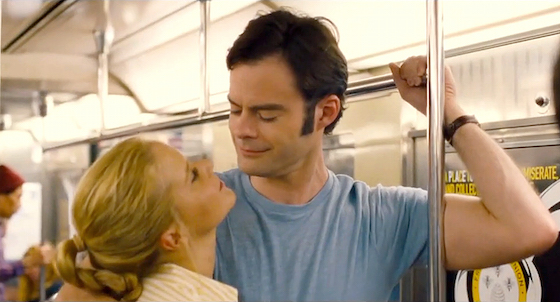 Surprisingly, since Schumer and co-star Bill Hader are known mainly as broad comedians, the greatest strength of Trainwreck is the believability of its central relationship. Aaron, a high-paid sports medicine doctor (Hader), and non-sports fan Amy are mismatched for sure, but their first meeting doesn't reek of that sad desperation to be funny.
Instead, like they are throughout the entire film, Schumer and Hader are pretty low-key. This isn't a handheld-camera mumblecore movie mind you, but there's little comic exaggeration going on here and there doesn't need to be.
Neither actor is what you would call a typical romantic lead, exhibiting few of the obvious physical attributes of say, an Ashton Kutcher or a Katherine Heigl. They also don't wear the latest fashions and look impeccable in every scene. Part of what gives them their charm is their sheer ordinariness, especially since they traverse the high-rolling world of sports superstars throughout the film.
LeBron James (playing himself) is one of Aaron's patients, and in another sly subversion, is actually an overly ordinary, caring best friend to the doctor. Some of the best comic moments in the movie come from the basketball megastar playing ridiculously down-to-earth and deadpan, hilariously oblivious to his privileged lifestyle.
While Trainwreck gently subverts expectations in the romantic comedy genre and pokes fun at stereotypes in the sports world, it also — for the most part — avoids easy moralizing. The totally with-it Aaron doesn't hook up with Amy so he can "fix" her, and Amy doesn't have a wacky best friend who's always giving her advice that's so terrible we know it only exists to fuel the inevitable break-up scene.
Aaron takes her bad habits in stride and actually falls in love with her because of this authenticity. When they finally do have a real argument, it's at least as much because of her insecurity as it is her bad habits.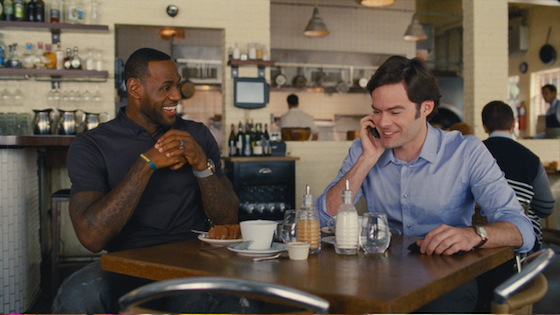 The function usually served by the one-dimensional best friend character is split into two roles. Brie Larson plays Amy's younger sister, a grounded young woman who accepts the mantle of adult responsibility with grace, even as her sis vehemently disapproves of it. Larson gives the small role a good amount of depth and grounds a troubled family dynamic.
On the other hand, Amy's father (Colin Quinn) is just barely above a one-note joke as the cranky old man who gave Amy all the bad advice in the first place. A needless prologue with the sisters as young girls plays like an "SNL" sketch where they keep driving the same joke into the ground and gets Trainwreck off to a rocky start.
Apatow still has a problem with length, as this clocks in at just over two hours, and could use a little pruning in the joke department off the front end. It also takes a while for Apatow and Schumer to find their rhythm at first. Or maybe it's just a matter of being able to tune into the film's wavelength.
Schumer has a unique comic voice and she holds herself with a confidence that can't be easily pigeonholed. That, along with Hader's understated performance, make Trainwreck a refreshing rom-com that tweaks the formula just enough to remind you why formulas work in the first place.