"State of Play," the new "old" journalistic thriller based on a 2003 BBC TV serial, hits theaters today—the same day that Oprah does an entire show on Internet sensation Twitter. Interestingly enough, a strong undercurrent of the film spotlights that battle between new and old media, embodied by grizzled and idealized traditional reporter Cal McAffrey (Russell Crowe) and upstart Washington blogger Della Frye (Rachel McAdams).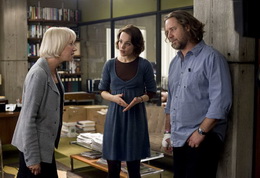 Although their animosity for each other is one of the most compelling elements of the film and falls away far too soon, the clever script does update its source material admirably to reflect the current state of journalism and politics in America. It was written by Billy Ray (who wrote and directed "Shattered Glass," a fascinating portrait of a reporter who just made up his news stories), Tony Gilroy, (who wrote and directed "Michael Clayton," about an ethically challenged "fixer" in the world of the law), and Matthew Michael Carnahan (who wrote the humorless civics lesson "Lions for Lambs—oh well, two out of three ain't bad).
Crowe is in pudgy, shaggy-dog mode as a guy who would prefer to wait and take the time to make sure a story is correct than get it posted immediately, as the trends of today's instant news cycle dictate. Everybody in town seems to be on a first-name basis with Cal, including congressman Stephen Collins (Ben Affleck), who used to be his college roommate (despite the fact that there's eight years between them). While Crowe is all shrugging shoulders and rumpled shirts, Affleck's square-jawed handsomeness and easy smile are perfect for the politician with something to hide.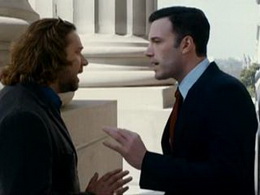 The fact that this pair's past relationship is revealed slowly as the movie progresses deepens the suspense of the plot, which continues to surprise throughout. Cal's personal relationships are all challenged as he tries to weigh the demands of friendship with writing an accurate story. It turns out that the married congressman was having an affair with his attractive young aide, who died mysteriously on a train platform the morning of a big, Collins-led hearing on a private and very powerful defense contractor. Coincidence? We think not. Luckily, the screenwriters are well aware of the ease in which the audience will jump to conclusions with the "evil corporation" story.
That's why they throw in Robin Wright Penn, as Affleck's disgraced wife, who, it turns out, once slept with Cal. Wright Penn has a comparatively small role, but she does wonders with it. She has a sort of quiet nobility to her, even as her spirit has been broken. Each of her scenes with Crowe are charged with years of questions and longing and, although short, they are quite powerful.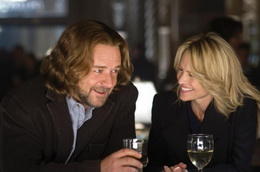 Helen Mirren has a small role as the veteran newspaper editor who is under pressure from the newspaper's new corporate owners (another timely addition to the script), and she makes of the most of it, despite the fact that it's unlikely she would have kept someone with Cal's personal ties on the story at all.
Director Kevin Macdonald, an Oscar-winning documentarian ("One Day in September"), made quite a splash with the messy but harrowing feature film "The Last King of Scotland," which earned Forest Whitaker a Best Actor Oscar two years ago. In "State of Play," he proves quite adept at juggling an intricate plot and multiple characters. He also seems to have jettisoned some of "Scotland"'s more bizarre visual flourishes in favor of a more—ahem—traditional style of storytelling.
The film's outward ties to old-school investigative-journalist movies like "All The President's Men" is no accident. "State of Play" romanticizes the process even as it signals its death. During the closing credits, we watch paper and ink through every process as the fictional Washington Globe goes to press. It's as much a funeral procession for a dying art as it is a celebration of its ideals.