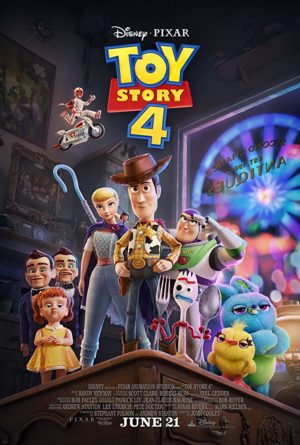 [Rating: Rock Fist Way Up]

Pixar once again finds its target audience in millennials who grew up with their favorite cowboy and spaceman. After what was a perfect ending in Toy Story 3, the animation company is back with another story to tell, with Toy Story 4 (director – Josh Cooley). Some may wonder if this film is actually needed after a satisfying conclusion already.
However, for what it's worth, this is a perfect and fitting epilogue to the life of the toys that sets them up for even more adventures. Through the decades, the friendship of Woody (Tom Hanks) and Buzz Lightyear (Tim Allen) has been a pop culture staple in the hearts of viewers, and to see them work once more helping others is a refreshing change of pace from the chaotic world of today.

After being handed down to Bonnie, the toys including Jessie (Joan Cusack), Rex (Wallace Shawn), The Potato Heads (Don Rickles via audio archive and Estelle Harris) among many, have been living peacefully with their new owner. Playing all day and having fun keeps the toys' spirits high. That is, all except Woody, who feels like Bonnie is slowly ignoring him and forgetting all about him. When he stows away in her backpack to school, she creates a new "toy", Forky (Tony Hale), a spork who Bonnie falls in love with, but no other toy can understand why she would have such a deep affection for it. When Bonnie and her family road trip, it's up to Woody to protect Forky from throwing himself away in the trash and talk to him about why he's important to Bonnie and her world.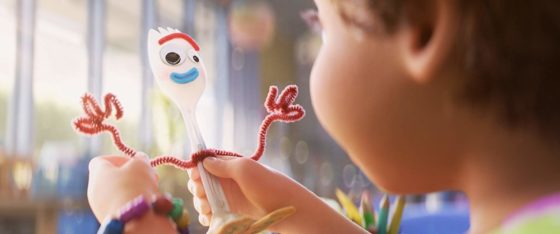 Along the way, Woody and Forky meet Gabby Gabby (Christina Hendricks) a baby doll in an antique shop. Though friendly at first, Gabby Gabby has an agenda of her own with Woody, leading him to escape without Forky. Out of nowhere, he meets his old flame Bo Peep (Annie Potts) who according to Toy Story 3 was given away (she has her own background story of course – so no spoilers), living in the wild. Bo agrees to help Woody save Forky from Gabby Gabby, alongside her friends Giggle McDimples (Ally Maki) and Duke Caboom (Keanu Reeves in what is honestly one of the best characters in the franchise with his own semi-tragic background), and get Woody and Forky back to Bonnie.

I'm pretty dang positive I adored this film. I know many people are looking and thinking that Toy Story 4 is most likely a way to sell tickets and make even more money for Disney, but really, it's not. This is a genuine story that relies on the strength of its characters to push audiences to want to see it, and ultimately leave impressed by it and most likely crying.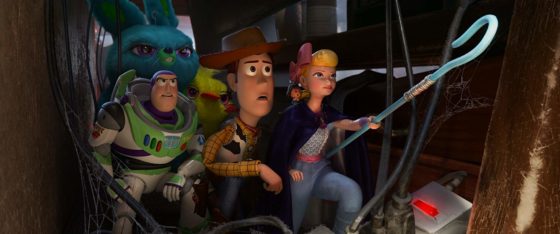 The new characters are even more charming than I could have imagined. I want somebody to make more of the Toy Story Toons short features for them. Duke Caboom, in a scene about his backstory alone, contains a lot of character substance. And it's nice to know his fears and why jumping from high places–like his toy is intended to do–is such an issue for him. The new addition of Ducky and Bunny (Keegan-Michael Key and Jordan Peele) might just be some of the better modern "Disney sidekicks" to offer comedy relief. Even Forky and his own issues on why he's a "toy" to Bonnie seems weird, but offers a lot of reason and understanding to his significance. These toys have existential crises just like us humans! And that's the greatness of Toy Story and why I think we love it so. We can relate to these characters and their feelings. Where do we belong among our circle of friends? Is our life important to anybody else and can we help others in need?
In a technical aspect, this film is beautiful. It's Pixar so it better be beautiful. It opens on a scene in the rain, bringing the series full circle from the 1990s, when Pixar had trouble animating liquids in Toy Story. Now their rainstorms don't even look animated, they look real. In my lifetime, I can say I've seen the growth and constant development of this animation giant. The writing is fun, the music is emotional (another win for Randy Newman), and the constant Easter Eggs in this film are so fun. I'm so surprised how many of them I recognized.
Even though I personally feel Toy Story 3 was the real ending to this franchise, it's in Toy Story 4 that I feel I can get a sense of closure on a lot of these characters I have literally grown up with for nearly a quarter of a century. It's a beautiful epilogue on this chapter in Pixar's history, and a final hurrah to the power of friendship.