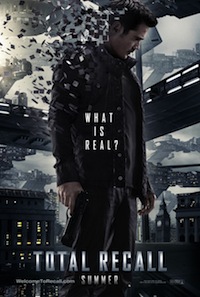 In a dystopian future, the world is only inhabitable in two places — Great Britain and Australia. The countries are connected through an underground tunnel that goes through the planet's core and it serves as a handy dividing line between the rich and the poor. All of this is explained before the first scene of director Len Wiseman's new interpretation of Total Recall.
Colin Farrell stars in the reboot/reimagining/idea shuffle loosely based on a short story by Philip K. Dick. He is joined by Kate Beckinsale, Jessica Biel and Bryan Cranston, albeit briefly in Cranston's case. Farrell's character is the only one with some major dramatic heavy lifting. After becoming restless with his life, Douglas Quaid (Farrell) visits a company called Rekall that will give him memories of another life. But when the Rekall process discovers pre-existing memories, it isn't long before Quaid is swept up in a world-spanning conspiracy.
With the exception of Beckinsale, everyone else involved in Total Recall seems to be going through the motions. Farrell has proven himself a capable actor in films like In Bruges and Biel, while less accomplished, is capable of better. The resultant film suffers from a script that is too rife with plot holes to take itself so seriously.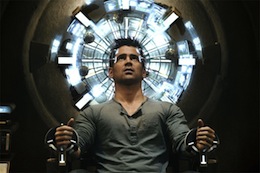 The movie automatically invites comparison to the 1990 Arnold Schwarzenegger vehicle of the same name (and I think I deserve kudos for taking this long to make said comparison). While there is plenty the remake does right, some of the charm of the original is decidedly absent. The new version is missing the wry sense of humor of the original, which made the sillier elements of the script easier to swallow. The original also had a more charming, although more limited, protagonist in Schwarzenegger.
What the remake does exceptionally well is create a sense of urgency and build some truly intense chase sequences that span horizontally and vertically across the crowded cityscapes. Wiseman shows an unexpected discipline in his framing and camera choices, especially when you consider he's the guy behind the first two Underworld movies, and the production design is top-notch, as are many of the special effects.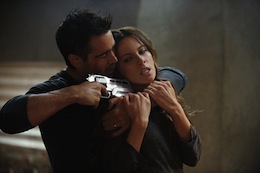 Beyond that, plot of the movie suffers from excessive self-seriousness and chooses to gloss over the question of whether or not the events transpiring are real or part of Farrell's character's experience at Recall, instead focusing on some political discourse and rebellion that is about as heavy-handed and uninspired as plots can be.
Strictly as an action vehicle, Total Recall works more often than it doesn't and should be recognized for accomplishing that. But it lacks a compelling story or a cast that is charismatic enough to transcend its sometimes boring material. The minor-est of minor recommendations goes out to moviegoers in the mood for some Sci-Fi, but action fans may want to wait a week until buzz starts coming back on The Bourne Legacy.