For seven seasons, Tim Heidecker and Eric Wareheim produced some of the most bizarre and inspired TV around.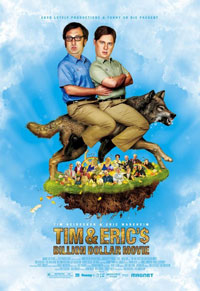 The crudely animated Tom Goes to the Mayor established their names and absurdist brand of humor on the Adult Swim lineup of the Cartoon Network, but it was the mostly live-action Tim and Eric Awesome Show, Great Job! that cemented their reputation as class-A nutjobs who have no boundaries in going for a laugh.
Now the duo has made their first feature film in conjunction with Adam McKay and Will Ferrell's Funny Or Die imprint. It's called Tim & Eric's Billion Dollar Movie, and it's nice to see Heidecker and Wareheim not holding back in an R-rated comedy either.
Tim and Eric's humor almost always works, and mostly in small doses. Their TV episodes were 11 minutes each, usually jumping wildly from one set-up to the next, employing bad actors, awkward edits, and state-of-the-art computer effects and graphic design from 1981 to create humor that feels inept but is actually anything but.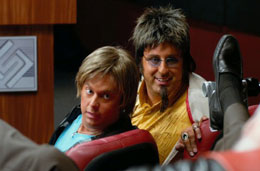 The challenge with Tim & Eric's Billion Dollar Movie is stretching that brand of satire out to 90 minutes. There are enough laugh-out-loud moments and celebrity guest stars for multiple 11-minute episodes, but despite all the deconstructionist madness, the last hour of Tim & Eric's Billion Dollar Movie can actually get pretty tiring.
Tim and Eric's humor comes from their instinctual knowledge of how editing is used to manipulate the viewer. They poke vicious fun at all kinds of pretentiousness and showcase how ingrained in us viewers certain music and editing cues have become.
The first half hour of Tim & Eric's Billion Dollar Movie does what they do best — moving quickly between infomercials and send-ups of industrial films with Tim and Eric playing exaggerated, clueless Hollywood versions of themselves with douchebag hairstyles, multiple piercings (Eric even has the hair in his extra-long goatee pierced), and spray tans. Plus Jeff Goldblum is Chef Goldblum, a man extolling the virtues of customized stirrup chairs that pour scalding butter on your hand for a premium movie-watching experience.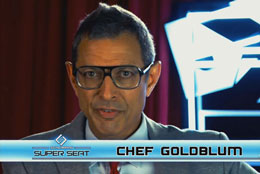 As an example of the clever (kind of) subtle brand of humor they do so well, the credit "Directed by Tim & Eric" stays on the screen long after the scene has moved on to make sure nobody forgets whose film it is. There's also an intrusive narrator (Michael Gross) who talks down to the audience.
The plot here is that they have been given a billion-dollar budget for a film, and have precious few minutes of usable footage after spending it all on a Johnny Depp look-alike who they thought was Johnny Depp, a diamond-plated suit for their main character, and millions for their spiritual guru, Jim Joe Kelly (Zach Galifianakis).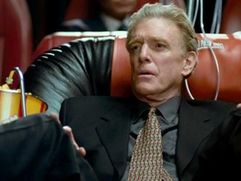 Robert Loggia and William Atherton (the EPA dick from Ghostbusters) play studio heads from Schlaaang, and as much fun as it is to see them in the movie, they don't have much to you and they performances aren't manipulated nearly enough by the strange jump cuts and editing loops Tim and Eric usually use.
Once erstwhile Tim and Eric Awesome Show, Great Job!  contributors Will Ferrell, John C. Reilly, and Will Forte show up, Tim & Eric's Billion Dollar Movie settles in rather uncomfortably into a pretty tepid and completely different plot about forming a PR firm and turning a decrepit mall around. It's when the absurdness stops momentarily and turns purely to silliness (and when the film does what any other normal film — not this one — should strive to do: build character) that the movie starts to feel long.
It's hard to keep up that kind of pace, but I think in order for a Tim and Eric movie to truly be as dangerously funny as it needs to be (and I'm not talking about the movie's multiple gross-out moments, two of which had me on the verge of retching and shouting out loud — in a good way), Heidecker and Wareheim need to use the Zucker, Abrahams, and Zucker model and just keep the jokes coming every minute.
If that means a different set-up every five minutes, so be it. As it is, Tim & Eric's Billion Dollar Movie still feels like sketch comedy after all, so why not abandon any semblance of a plot altogether?
Tim & Eric's Billion Dollar Movie is on VOD now, and opens in theaters like the Screenland Crossroads today.