How does a person reconcile the irreconcilable? How does one let go of hate when they must wear it as a jacket in a storm of malice and anger? How does a community come together when every person stands on the opposite end of a spectrum, sure that they are right and everyone else is wrong? These aren't easy questions to answer, yet in the process of telling a story about grief, anger, and misunderstanding in America's Midwest, director Martin McDonagh has come as close as any filmmaker could hope to doing just that.
Three Billboards Outside Ebbing, Missouri opens with Ebbing local Mildred Hayes (Frances McDormand) choking on the anger and grief born out of her daughter's brutal rape and murder some nine months earlier. The homicide investigation has stalled, and in an effort to jump-start it again, Mildred rents three billboards to advertise this anger as a direct challenge to Ebbing's police chief, Willoughby (Woody Harrelson). A small town of maybe one thousand people (if that), Ebbing gets wrapped up in the drama, with the locals taking sides in the dispute as if it were a union strike or presidential election.
One of the fiercest partisans of this struggle is a deputy of Willoughby's, Dixon (Sam Rockwell), a racist Barney Fife type with a drunken mean-streak. Just as Mildred takes no prisoners in her struggle to get at the truth of her daughter's murder, so too does Dixon feel a need to protect Willoughby, who happens to be dying of cancer, and who sticks up for Dixon when no one else does. At the center of it all is Mildred's daughter, Angela, who was raped and burned alive: an act that can't be undone with any amount of anger, outbursts, or billboards (not that that matters).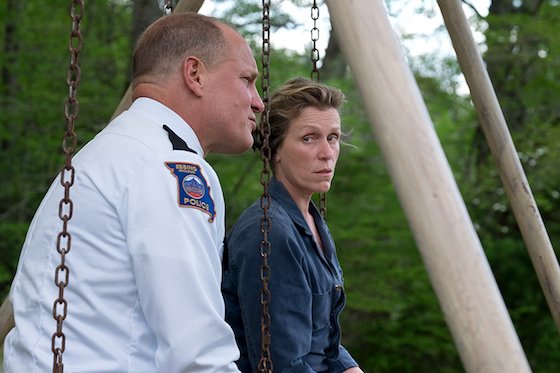 Perhaps the most startling and poignant aspect of Three Billboard Outside Ebbing, Missouri is its insistence that all of this anger is valid (even if the responses to it may not be). McDonagh's film spins on an axis of anger, and the revolutions it takes on it do so with a lack of inhibition few stories dare embrace. Mildred is angry because her daughter knows no justice; Chief Willoughby is angry that he has cancer…and because Angela Hayes knows no justice. Deputy Dixon is angry because Mildred is attacking Willoughby, and because he is a small man in a world that he feels he will never size-up to.
These people don't run from their anger, they harness it to explore the full range of their frustration and grief, which in turn leads to some bad decisions, along with a few good ones. Yet McDonagh doesn't run from this either, and whether these decisions lead to growth or deeper despair (both outcomes are explored), they play out with a startling honesty that gets to the heart of Ebbing and her citizens. Mildred isn't perfect, and in her pursuit of the truth, she takes turns being the hero as well as the villain. Likewise, Dixon is a hothead and an asshole, but that doesn't make his feelings invalid, nor does it confine him to an arc that keeps him from experiencing real growth.
Like In Bruges, another film written and directed by McDonagh, characters can be both right and wrong, they can be assholes as well as fully realized and relatable individuals. As deep and interesting as all that sounds, this isn't an easy trick to pull off without a dynamite script and a cast to beat all casts. Luckily for McDonagh, he's got both in spades, from pitch-perfect supporting work (Peter Dinklange, John Hawkes, Caleb Landry Jones, Lucas Hedges, and Clark Peters are nothing short of magnificent), to the leads, which represent some of the best work of their respective careers. Harrelson is outstanding as the overwhelmed chief of police, who already has enough to contend with vis a vis terminal cancer when Mildred's stunt sets the small town on its ear. He's got a difficult role in all of this, juggling competing priorities as a character that must be a hard-ass while also demonstrating a relatability that sees the entire town (Mildred included) love him like a son.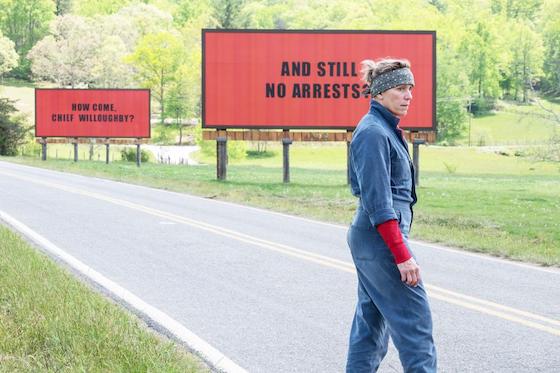 It is McDormand and Rockwell who run away with this movie, however. The audience takes turns loving and hating them, and for good reason: they are fully realized and fleshed out human beings with flaws and moments of redemption in equal measure. Rockwell plays Dixon with such a nuanced familiarity that one can hate him one moment, and want to hug him the next, not because the script sets him up to win, but because Rockwell knows how to convey the sad art of perpetual losing. And while it is easy to sympathize with Mildred, McDormand plays her with a wounded ferocity that is honest yet terrible. She may be on a righteous quest, but that doesn't mean she's above mistakes or cruelty, the latter quality on display in a scene featuring Dinklage, perhaps the movie's best.
Three Billboards Outside Ebbing, Missouri is a story about a community working through impossible issues not by overcoming anger, but by embracing it and allowing for it to influence the process of healing. This starts with anger, frustration, and despair, leads to conflict, and if fully explored, can bring about understanding. This movie doesn't work because Mildred is right, and Dixon and Willoughby are wrong. It works because they are all right, as well as all wrong, and if given the time to explore the full range of that paradox, there's light to be discovered at the end of the tunnel. In a dark world where people feel that the lines in the sand are drawn too deeply to be crossed, perhaps if we survive our conflict and anger, there's room to hope we might all find the light, too.