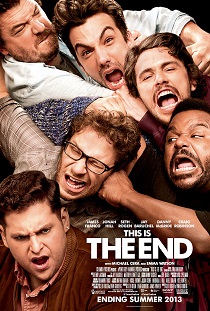 Seth Rogen and Evan Goldberg revisit the same themes that made their script for Superbad so damn funny six years ago in This is The End, an apocalyptic meta-comedy that swings wildly from downright hilarious to disappointingly lazy during its 100-minute running time.
If it feels like Rogen and Team Apatow have ruled the modern comedy for quite some time now, that's because they have. The quick-witted, self-deprecating stoner manchild from 2007's Knocked Up has become a staple in broad Hollywood comedy, in everything from I Love You, Man to Pineapple Express, where Apatow players Jason Segel and James Franco play the parts, repsectively. Both of those actors are on hand for  This is the End, playing hyper-absorbed versions of themselves, and it's part of what gives the film it's edge.
At the same time, it's also responsible for lessening its ultimate impact. In the end, This is the End feels like a lark (albeit a very funny lark) — a couple of short films or sketches stretched out to feature length with a budget that only its stars could afford.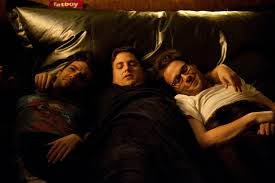 This is partially because the genesis of the project actually does go back to a short film — one called Jay and Seth vs. the Apocalypse that featured Rogen and his Canadian pal Jay Baruchel (star of Judd Apatow's Undeclared and Knocked Up) battling their own personal demons in a house while an apocalypse rages on outside. Since that short, Rogen and most of his friends have become very famous, so the full-length movie adds an extra layer of parody onto the premise, brutally sending up celebrity ego. In fact, This is the End is at its funniest and most biting because of the willingness of its stars to viciously poke fun at their own public images. (Franco seems especially enthusiastic and pulls off some of the film's most sublime moments.)
Baruchel meets Rogen at the airport in Los Angeles for a bro-down weekend filled with videogames and pot, and is disappointed when Rogen drags him along to a "James Franco party." Partially because he's the lesser-known of all Rogen's celeb friends and partially because he wanted to bond with Seth alone, Jay retreats with Seth to a convenience store and tries to skip out. But when the sky opens up and the ground gives way, the two race back to Franco's and end up trapped in the house during the apocalypse.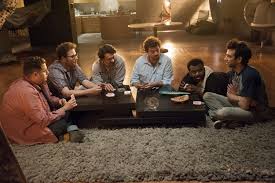 Somehow, the power remains on — which I'll let slide because some of the best moments require it — and Jonah Hill, Danny McBride, and Craig Robinson join Jay, Seth, and James for some serious soul-searching. It turns out, there's quite of bit of masturbation jokes and crude, selfish humor involved in the soul-searching, even with the end of the world at their door. The self-absorption even goes so far that the guys film an extemporaneous sequel to Pineapple Express, which is actually really funny, and another recalls the Cera-Hill bedtime bonding session from Superbad.
So there's a tough line that the movie has to walk. Because This is the End has transplanted the egotistical and childish behavior normally reserved for Team Apatow's lovable manchild characters onto the actors themselves, it feels dangerous. For awhile, it feels like anything can happen, and its thrilling. As This is the End progresses, though, and its central conceit eventually grows tired, the script falls back on easier jokes and a hokey ending.
As much as it commits, the movie doesn't go all the way with its premise — it could have been filmed in an entirely faux-documentary style, which would have added another layer of "reality" and might have heightened some of the darker places Goldberg and Rogen's script goes.
Still, there is something particularly satisfying about the idea that a nerdy, frustrated teenager with a drug-addled imagination can grow up to be a movie star, and make the movie he used to giggle about with his friends — one with giant demons that sport oversized phalluses and spit fire. That kid had no way of knowing that 1) he would actually get to make that movie and 2) he would be rich and successful by then, so the mere fact that This is the End works as well as it does most of the time is a testament to Rogen's comedic talent.