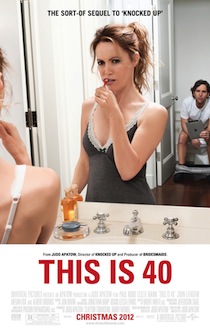 Paul Rudd and Leslie Mann repise their roles as Pete and Debbie from Knocked Up in Judd Apatow's latest film This is 40. The film, which is more of a portrait of a strained family than it is a functional narrative, follows Pete and Debbie as they struggle to deal with getting older, raising their children, staying financially solvent and managing the emotional baggage they each inherited from their terrible parents. The film is not the family comedy the trailers suggest, nor does it go for the big laugh, not that that's a bad thing.
To Apatow's credit, this is the most challenging film he's ever written and directed. At times it feels like the same kind of close-range family deconstruction that John Cassavetes would have created – only to discard in lieu of something better. While there is a simple and misguided plot about Pete's failing record business that serves as the closest thing to a vehicle to move the narrative forward, This Is 40 really functions as a set of disjointed scenes all focused on the theme of getting older.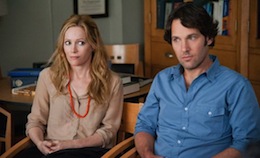 One scene finds Pete and Debbie debating the marital benefit of Viagra. Another sees them equally astonished at Debbie's young, hot boutique employee, played by Megan Fox. Others see them dealing with their wayward fathers, their kids' distinct maturity levels, the list goes on and on with varying levels of effectiveness.  It's been argued that the ability to relate to this film is entirely dependent on age and life experiences, but that's not true. There are many moments in This Is 40 that are universally relatable to anyone who's been in a relationship, anyone who's felt like they're getting older or out-of-touch, or anyone who's ever struggled in business or at home. These themes are broad enough and inclusive enough that anyone can find some commonality in it.
And again, Apatow writes and directs in such a way that is accessible. The problem is that none of it executed particularly well. The plot drags and the hangs on longer than it should. And the entire film feels like its comedic timing is off. When it does try to be funny, the jokes don't land as strongly or resonate as well. Some of the running bits don't work as well either, such as older daughter Sadie's addiction to the show Lost.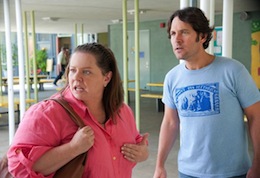 All of that said, there are some bright spots that keep This Is 40 from being a complete waste of time. Mann is incredible as Debbie, doing the best work of her career here. She is the film's true star and is equal parts funny and effective. Albert Brooks, who plays Pete's father, is also great as a loveably despicable deadbeat who hasn't gotten any better at parenting with age. Finally, Melissa McCarthy walks away with the movie all because of one scene she ad libs in the principals office. It's a scene that is so funny, it was the only outtake included during the film's end credits.
But even with those bright spots, This Is 40 doesn't manage to be as compelling as it could have been. It's mismatched tone and flimsy narrative never manage to get in sync and the end result is a disjointed, mostly forgettable film.