Jason Segel follows Seth Rogen as the next Judd Apatow-produced regular to be an unlikely leading man and show off solid writing chops—this time, in the same movie. Following the forgettable "Drillbit Taylor," this raunchy and sweet romantic comedy shows that as long as Apatow keeps mining the cast and crews of his old TV shows "Freaks and Geeks" and "Undeclared," that he'll more often than not be able to deliver the startlingly frank brand of humor he has become known for lately.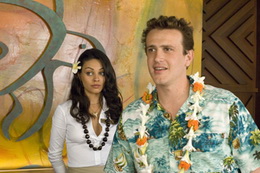 Directed by Nicholas Stoller (a writer for "Undeclared"), "Forgetting Sarah Marshall" follows a heartbroken puppy-dog named Peter after being dumped by his famous TV-actress girlfriend, Sarah Marshall (Kirsten Bell). It turns out Peter is a non-motivated musician who is coasting because he can, since he landed the plum job of creating cheesy, brooding "mood music" for Sarah's "C.S.I"-style prime time detective show.
Like "Knocked Up," it does stretch believability to have a dumpy guy going out with a gorgeous TV star, but average-looking guys like me should thank Apatow and his stable of wish-fulfillment writers and actors for making it seem a little more likely that this kind of thing happens.
It is too convenient to have sad-sack Peter go on a vacation by himself in Hawaii at the urging of his happily-married cousin (Bill Hader) and then unknowingly end up at the same hotel as his ex and her new British rock star boyfriend, Aldous Snow (Russell Brand). But this is easy to forgive, because in the confines of this typical set-up, Segel and company score over and over again with terrifically witty interplay and very funny situations.
Like Apatow and Seth Rogen before him, Segel nails the comedy so perfectly because he sticks to what he knows. Not only is the raunchiness a full-force part of the script, integrated seamlessly with that inherent sweetness that makes it all go down a little easier, but Segel also lampoons the hell out of Hollywood types—people with that unique mix of egotism and lack of self-confidence that comes with having jobs in the entertainment industry. (Segel's most recent gig is on the sitcom "How I Met Your Mother," while Bell is a veteran of "Veronica Mars.")
In an earlier SXSW blog, I raved about how in "The Promotion," starring John C. Reilly and Seann Wiliam Scott as two grocery store managers vying for the same job, neither character was a villian. "Forgetting Sarah Marshall" plays a delicate balancing act the entire time as well. As in most break-ups (depending on who's side you take), one person looks evil and the other completely sympathetic. That is, until the details about the relationship known only to the two start to come out. During the course of this film, there's a subtle switch happening that allows both characters to showcase their weak sides.
It all culminates with an indefensible act that is uncomfortably (and ingeniously) played for laughs. Like the infamous pregnant bedroom scene in "Knocked Up," Segel breaks down another sacred behind-closed-doors sex situation that no one likes to talk about, and ends up with a classic memorable moment.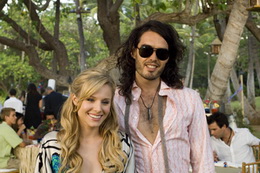 A super-solid supporting cast including Hader, Jonah Hill, Paul Rudd, and Mila Kunis ("That 70's Show")—who is a real eye-opener in a tricky role—navigate the audience through some unlikely twists and turns, making sure that the characters never delve into parody. British comedian Brand, who's Richard Ashcroft-poutiness could have turned one-note faster than you can say "Bittersweet Symphony," almost steals the entire show as laid-back rock star Aldous. Besides being the only truly confident character in the movie, he is so casual about his celebrity status that it makes his unexpectedly blunt remarks even more hilarious.
"Forgetting Sarah Marshall" may not contain all of the hardcore truths about modern male/female relationships that made "Knocked Up" so brilliant, but it has more than its fair share of uncomfortable and familiar situations. Segel's characters talk like real people and Stoller's direction keeps a close watch on their emotional trials, and a knowing eye on the punchline at all times.
Producer Apatow is creating a solid body of work (with the occasional misstep) that is approaching household-name familiarity. Like Christopher Guest's stable of cult-favorite improv actors, the Apatow players make us smile by just entering the frame. The crowd in Austin at the enormous, sold-out Paramount Theater laughed heartily each time Rudd, Hill, or any other recognizable face showed up on the screen. The time of Meg Ryan, Tom Hanks, Julia Roberts, and Sandra Bullock has passed and the nerds and their too-hot dates have taken over. When people look back at this time in movie history, Apatow's potent, frank, and sweet comedies will absolutley define this era of mainstream filmmaking.