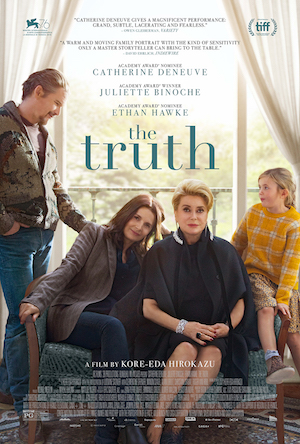 [Rating: Solid Rock Fist Up]
Catherine Deneuve is a great actress.
That's it. I could end the review there but there is so much more to The Truth (La Vérité), a charming story about an aging film star and her relationship with her daughter (Juliette Binoche). It asks the question, "What is truth?" and attempts to answer it through its exploits of relationships, old and new.
Directed by Japanese filmmaker, Hirokazu Kore-eda, who won the cinema world over when he won the Jury Prize at the 2013 Cannes Film Festival for Like Father, Like Son and again in 2018 when Shoplifters won the Palme d'Or. His ambitious filmmaking now crosses country and language with this, his first French film.
The duality of this storytelling is revealing. Fabienne (Deneuve) has many qualities that make her cold and alluring at the same time. She's haughty at times and sometimes, just bratty. She splits her time in the story between releasing a memoir and taking a bit role in a science fiction movie where she plays the aged daughter of a young actress who seems poised to be the next big thing… the next her.
This journey is accompanied and complicated by her visiting daughter, Lumir (Binoche), her American husband (Ethan Hawke), their clever little daughter, as well as the men in her life. Lumir is searching for the truth, in her mother and in the memoir. But as Fabienne tells her, "I'm an actress, I won't tell the naked truth!" Hence, the duality continues.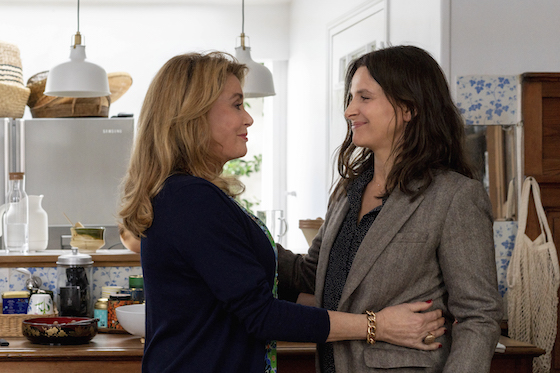 The film feels deliberately small in scale, which enables viewers to focus on what really counts here: the acting. Deneuve and Binoche are powerhouses on screen and their scenes together reflect that best. All the other actors, including Hawke, are downplayed to a couple of good scenes while the two female stars work it for the majority of the movie.
Co-writer Kore-eda pens a delightful tale that explores human conditions and the relationships that bind us and help us grow. A quiet, witty movie that I hope finds an audience because it's definitely worth the watch, if for nothing else, to see Deneuve and Binoche on the screen together.