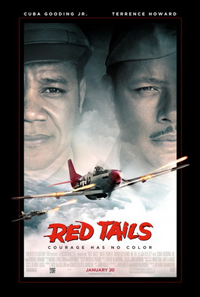 Red Tails is riding into wide release this weekend on a lot of good will. After studios balked at the idea of funding the historical film about the Tuskegee Airmen because it would have to star (gasp!) black people, billionaire George Lucas took it upon himself to produce and distribute the film out of his own pocket – an expense that reached near $100 million according to the New York Times.
With that strong of a disbelief in the marketing potential of black leading men (at least that's the reason Lucas is using for the rejection), you can't help but root against the studios' intuition, even if it ends up making Lucas another billion dollars.
But just because the film may deserve to succeed financially based on an ideological level, Red Tails doesn't do enough to justify itself, not even in the face of what Lucas is calling standard Hollywood practice.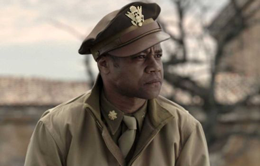 George Lucas has actually been trying to get a film made about the Tuskegee Airmen for over 20 years now. It's not hard to understand what attracted him to the story – a group of second-class citizens emerge in World War II to prove themselves not just equal to their lighter-skinned counter-parts, but went on to establish themselves as better flyers than most other units. It's an uplifting story with its feet based in reality, all while offering the opportunity for some cool aerial dogfights. The screenplay is penned by John Ridley (Undercover Brother, U-Turn) and Aaron McGruder (The Boondocks syndicated comic strip).
Unfortunately, the dogfights are about all that make the film notable. This is bad news for stars Terrence Howard, David Oyelowo, and Cuba Gooding, Jr.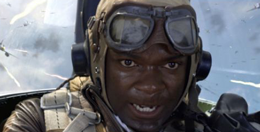 George Lucas ended up giving the directing reins to Anthony Hemingway (TV's The Wire, CSI:NY), but it's hard to imagine that Lucas didn't have a big role in assembling these air sequences. After working on six movies about space flight, George Lucas is a natural fit for these sequences, and his expertise shines through. His birds swoop in to take on a surprise German battleship, or play a game of chicken with an SS plane, the winner flying right through the explosive debris of the other.
Other aspects of the film, paired with these sharp, exciting sequences, could have made for a great pulpy throwback. Red Tails opens with a weirdly 80s opening title sequence, with big blocky red credits flashing over an aerial battle that obscure most of the action. In the background, a subtle synth score plays as though it's opening a sci-fi movie. Then pops up a German pilot whose scarred face only comes in "sneer" flavor who goes on to drop lines like "Die, you foolish Africans!"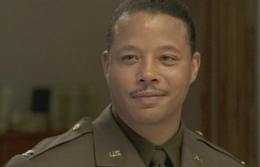 It really could have been fun, but Hemingway and Lucas are too enamored with the B-movies of yesteryear to give this film any edge. It's an homage to war movies from the 40s, but updated with a topic that hasn't played as anything better than an after-school special since the 70s.
The final product is, understandably, all over the place. It has more than a few moments, but gets mired in story elements that feel either cliché or out of place (towards the end, a random couple of scenes feel ripped out of a Great Escape knock-off).
I want Red Tails to do well, and I don't want Hollywood to be afraid of casting actors of races that aren't Caucasian. But Red Tails isn't the reason.