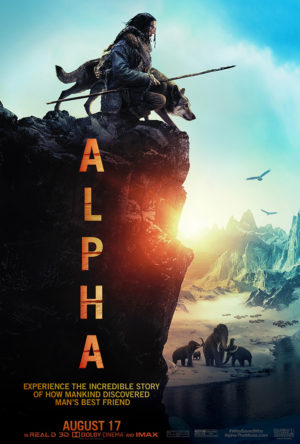 [Rating: Solid Rock Fist Up]
2018, in the Chinese calendar marks the year of the dog. Those ever loyal, ever fun loving pets that stick by our side and make us feel a little bit better about life. Being the year of the dog, many dog themed movies have been coming out this year, be it coincidence or not.
Among them is Alpha, which has been finished for a good year and is finally being released. Being skeptical of this film, which had so many roadblocks to actually get to a theater, I find myself actually surprised that this film about the first instant of "man's best friend" is a fun adventure that'll warm people's hearts and make us remember that we humans are not worthy of dogs.
Alpha is directed by Albert Hughes (The Book of Eli) and stars Kodi Smit-McPhee (The Road) as Keda, a 20,000 year old ancestor in the Earth's last ice age who along with his tribe, journeys far and beyond to hunt ancient buffalo for their people. It is a journey to learn what it takes to be a man. It's never presented that way, but of course you know that's what it is all about, especially a scene where Keda refusing to kill a living hog to feast on. When the tribe discovers the buffalo, tragedy occurs when Keda is sent tumbling down the side of a cliff, hitting a small ledge and left for dead. Waking up, he must get himself off the ledge and journey back to his village before the snow arrives. Along the way, and without forewarning, he lets an injured wolf follow him along the perilous journey and the two become allies as they work toward their destination and work together to survive.
Sounds like a fun family feature right? Maybe. Here's the big issue I had with Alpha – the marketing. I have seen so many TV spots on this making it seem like it's a family-friendly flick. I don't think that kids are going to want to sit through a movie that is 100% in a different language. I'm sure they would just imagine what is going on, but even if they are there for the dog stuff, it doesn't come into play until about forty minutes in. Another qualm I had over this was just how typical of a story it was when it wasn't featuring the dog. We've seen many a "journey of man" story and really, Alpha is helped a lot by the interaction between Keda and Alpha (the wolf).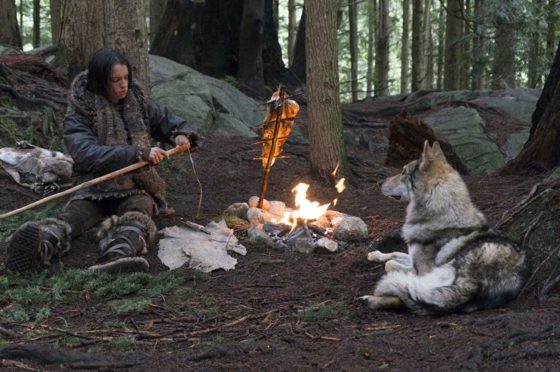 One of the real highlights of this film is the cinematography. I saw this in IMAX 3D which was a surprise because in that format, films can be up and down in terms of actually needing to be in 3D. Alpha benefits from the 3D but doesn't necessarily need it. We are told in the opening credits the film is set in Europe 20,000 years ago and it seems like it. The land is vast and empty, Woolly mammoths roam the plains that have volcanoes in unlikely places and the snow storms and deadly menaces with no visibility. The main conflict in this film, Keda being thrown from a cliff by a rogue buffalo, is actually gorgeous. It's played slowly to convey the shocking emotion that he's probably going to die. Even falling off the cliff, I felt dizzy from feeling as if I was looking down at the canyon myself. The journey of Keda and Alpha is equally beautiful, seeing the scenery around them, the night sky, the ice caves where evil sabretooth tigers lurk, all a surprising factor in this film. I don't think this movie will be remembered for Oscar season but the Academy needs to look at this.
One year after its initial release, Alpha is finally here. Again, I'm super surprised how much I cared for this movie. It's a heartwarming story of friendship and survival. The cinematography is something that is surprising to come from a "small" film like this, and the love of a dog has been there forever. If you have a dog, give them a hug, a pat on the head or a treat because they deserved it. Alpha helps Keda survive the Ice Age winters, and in the end because of this, the film reminds us that anything is possible with the help of our four-legged friends!