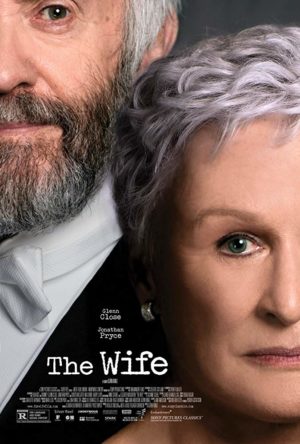 [Rating: Minor Rock Fist Up] 

As the old saying goes: Behind every great man, is a great woman.
In the new film The Wife, this saying rings true throughout the entire narrative. It is a story about the challenges of marriage in the twilight years and the secrets that one couple in particular share that tests their relationship during a time of great success. Directed by Swedish director Bjorn Runge, the film boasts an array of spectacular performances including that of Glenn Close and Jonathan Pryce, yet unfortunately doesn't land with a sense of ultimate satisfaction.
The film opens with Joe Castleman (Pryce) waking his wife Joan (Close) in the middle of the night for lack of sleep. Their love is pure and they enjoy still getting to spend their older years in each other's company. A few hours later in the early morning, Joe receives a call that he is to be award the Nobel Prize in Literature, something he and his wife have always dreamed about. Along with their son David (Max Irons) and Joe biographer Nathaniel (Christian Slater) they journey to Stockholm to receive the prize. Joe's new success comes as a bit of a step back for Joan who sees herself merely as "the wife" and feels cast aside during this new flush of fame.
The film uses flashbacks of young Joan (Annie Starke – Close's actual daughter) starting her love affair with Joe (Harry Lloyd) despite Joe already having a family. It is revealed that while his student, Joan's aspirations to become a novelist herself were put on hold to start this relationship, and at a time when women in the workplace were more frowned upon, to support her husband in his own endeavors. Now, back to present day, Joan feels aloof from her husband, guarding the secrets she has kept bottled up from others for years and finally ready to let it all out.

Stated before, The Wife's biggest success comes from its actors. The film wouldn't be as nearly interesting or watchable had it not been the talents of Close and Pryce. There has been a lot of buzz around the performance of Close and rightfully so. As familiar with I am of her performances in a film like Fatal Attraction, it's something like The Wife that shows how spectacularly Close does small-scale domestic drama.
The film plays out like a play, and is akin to 2016's Fences , where most of the action takes place in a solitary room. In the case of this film, it is the hotel room that the couple inhabits. From the cold winters of Sweden outside, the hotel room is the only place in this film that challenges the Castlemans' introduction from upfront, revealing things about one another that they would have otherwise taken to the grave. The back and forth of flashbacks slowly reveals a greater understanding of why somebody would want to sympathize with Joan in the first place.
Overall, the movie could have dug a little deeper into finding a cohesive theme. Sure, the most obvious idea of what secrets and lies do to a marriage is there, but it is the most cliche version of that you could think of. The wife finally has enough and she's willing to do whatever to tell her side of the story, even if its in earshot of the entire world to hear. It needed to be more developed (maybe through more flashbacks?), because in the end I felt little. Maybe the point is that it's impossible for either party to come out of this battle clean, but The Wife still left me wanting more from it's story, especially since the acting was so top-notch.