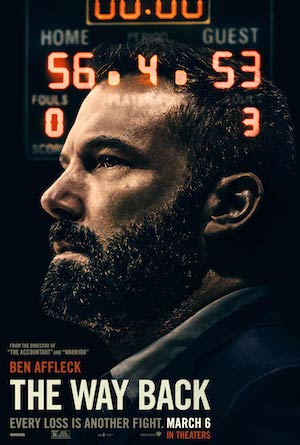 [Rating: Minor Rock Fist Up]

One thing sports movies have in common with movies about alcoholism or drug addiction and the road to recovery is both trees are littered with cliches. The Way Back, starring Ben Affleck and directed by Gavin O'Connor, plucks heavily from both, but manages to be a watchable and for the most part entertaining flick.

Affleck stars as Jack Cunningham, a once legendary high school stud, who threw his life away after turning down a chance to play for my beloved Kansas Jayhawks, instead spiraling into a life of drugs, bad decisions and ultimately becoming the town lush. (Writer's note: By the way, Ben, Ima go back and pinpoint which KU recruiting class you screwed over…)
I digress….Since high school and the fallout of him betraying Jayhawk nation, Jack's life has been a series of choices in how he handles the worst life can throw at a human being. He's been tested, for sure. The movie slowly unveils Jack's motivation for deserting his family and becoming a raging drunk monster. His chance to get clean and find a new passion presents itself when his former Catholic high school offers him the chance to take over as head coach for their struggling basketball team.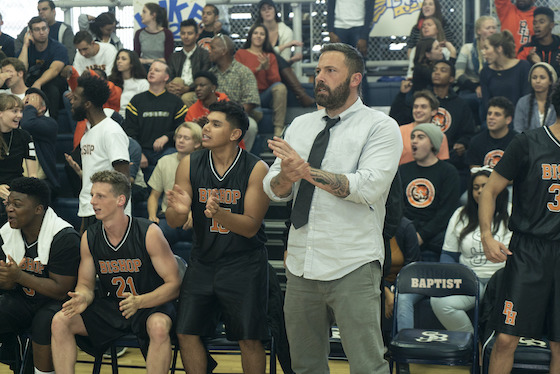 Ben Affleck is a better actor than he's given credit for and here he delivers one of the more honest and emotional performances he's displayed in a long while. It's an especially strong performance considering what he's given to work with. But there is a lot going on under the surface of his performance, especially given how the events of the movie mirror in slight ways, recent events in Affleck's own personal life.

The script is passable, leaning pretty heavy on the typical cliches for both sports movies and movies about addicts. But thankfully, the movie never dwells long enough on either's tropes long enough to steer it into a mangled mess. The basketball scenes are fun, even if predictable. Honestly, I would have loved to see more of the team and Coach Jack's relationships with the player fleshed out a bit.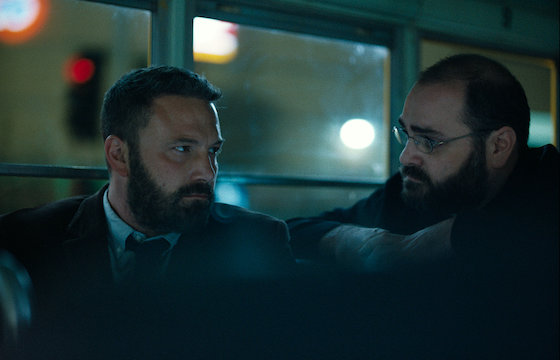 This is a story about an alcoholic, remember, and those stories hardly ever turn out well. True to form, The Way Back never allows itself get too caught up in its own triumphs, always undercutting the fun with the harsh dose of reality. It's a constant reminder that the way back isn't always the happy road we hope to find. Our choices have consequences and sometimes the casualties are those who are closest to us.
Director Gavin O'Connor (Warrior, Miracle), who has dabbled in the sports movie arena in the past keeps things moving, keeping the basketball scenes energetic and never allowing the downer scenes to derail the emotion of the film. His familiarity with Affleck may be the saving grace, having worked with the actor on the underrated flick, The Accountant, a few years back. O'Connor is wife enough to let Ben breathe in his performance, something that resonates in his interactions with his teammates and his estranged wife, played by Janina Gavankar.
The Way Back is entertaining flick even if it's devoid of any true originality within the confines of the two genres it's kicking around in. Affleck and his supporting cast give this by the numbers flick just enough moxie to make it a good watch.