The Watch enters theaters today under some uniquely terrible conditions. On top of having to open one week after events in Colorado that have left some feeling unsafe going to the movies, this is a film that was called Neighborhood Watch until the death of Trayvon Martin by the hands of a lone neighborhood watchman.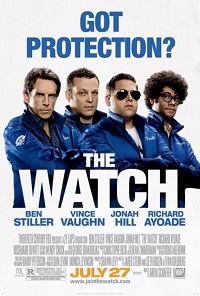 The ambiguity of that case – no one can tell if it was an act of self-defense or deluded murder – created a huge impact on national media, and pretty soon it became pretty obvious that Universal wasn't going to be able to release a movie with a title that reminded everyone of the twisted and sad current event.
But while the vaguely titled The Watch doesn't bring attention to Neighborhood Watches, a Neighborhood Watch (led by concerned suburban neighbors Ben Stiller, Vince Vaughn, Jonah Hill, and Richard Ayoade) is still a center point to the comedy, in which a modest such group of neighbors accidentally find themselves fighting off an alien invasion. Can the film help but force us to recall the Trayvon Martin case, and if it can't, does that keep us from being able to laugh?
No. The Watch doesn't have that problem, but that doesn't mean it's loaded to the gills with gold-star jokes to begin with.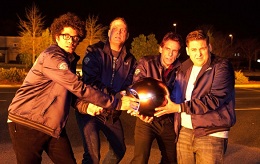 That's not to say it's a failure of a comedy. The Watch is directed by Akiva Schaffer, the third and least-seen member of the Lonely Island (they who jizzed in their pants.) Fans familiar with the adolescent ouvre of the Lonely Island will be pleased to know that The Watch shares a similar sense of humor – evident when one single object is compared to both semen and basic cable channel Nickelodeon.
The humor of The Watch definitely works – assuming your sense of humor meshes well with the film's. It's not necessarily sophomoric as much as it's unchecked fearlessness to embrace the sophomoric – less penis jokes than meta-penis jokes. That gives too much cerebral credit to laughs here, but it's to the script's credit (written by Seth Rogen, Evan Goldberg and Jared Stern) that it never goes for the cheap laugh.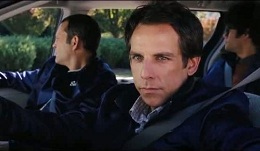 No, the comedy isn't the problem here, it's everything else. In a changing of gears so swift and unnatural it must have come down on orders from the studio, The Watch stops dead in its chuckle-up agenda halfway through and refocuses on character drama mostly devoid of laughs. All of the sudden, we're dealing with a potential date-rape scenario, and a man coming to grips with his sterility?
After an hour of just serving it up silly-style, The Watch becomes intent on becoming a meaningful drama that isn't in its DNA.
By the end it refocuses on gags, but it never recovers breeze of stupid humor that effortlessly flowed at the beginning.