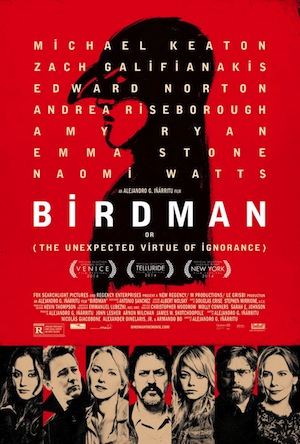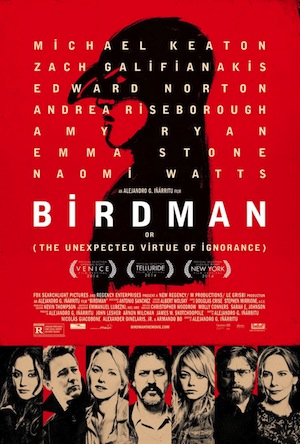 This review appears at Lawrence.com.
[Solid Rock Fist Up]
They say that one of the best ways to combat stage fright is to imagine the entire audience naked, so it's no surprise that Birdman—a waking nightmare about a Hollywood has-been who used to play a Batman-like superhero onscreen—features a similar scene, only one where the tables are turned uncomfortably on the actor.
Micheal Keaton, who plays former A-lister Riggan Thomson, is unexpectedly thrust into Times Square wearing nothing but his tighty-whities, while the play he's producing continues without him. In addition to looking supremely ridiculous while being eminently recognizable to everyone on the street, the actor is at his most vulnerable. He's trying to mount a super-serious Broadway stage adaptation of a Raymond Carver short story, and has put everything (his money, his relationships, his family—his sanity) on the line to do it. Things are not moving forward smoothly.
Director Alejandro González Iñárritu's Birdman is a lot of things—a backstage drama, an absurdist comedy, a quasi-autobiographical revelation, a self-aware jab at blockbusters, a wannabe social-media age satire, and a piece of technically superior magical realism—but one thing it isn't, is subtle.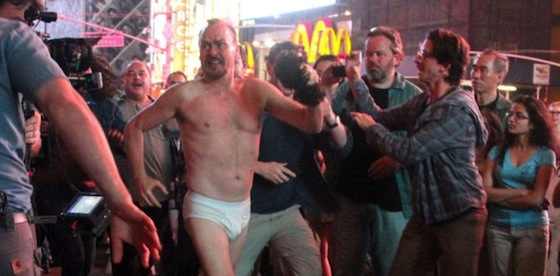 Iñárritu has never been about subtlety. In films like 21 Grams, Biutiful, and Babel, he revels in the misery of his characters and then contrives to make them even more miserable. Don't get me wrong, there's plenty of misery and pretentiousness in Birdman (which is subtitled The Unexpected Virtue of Ignorance) but its mostly psychosomatic—and often played for laughs, which is a new thing for Iñárritu.
One thing the filmmaker has always had is a stylistic virtuosity that often does wonders for the downcast, pretentious nature of his stories. This time, he's one-upped himself. With Oscar-winning cinematographer Emmanuel Lubezki (Gravity, The Tree of Life) at his side, he's conspired to tell Birdman in what seems like a single, unbroken take. Because of the magic of CGI, we know this isn't the case, but we also know this because time jumps forward even as the camera remains fluid. In that way, the strategy is perfect, because the story moves through space and time artificially, like a play.
The screenplay (co-written by Iñárritu, with three others) has the usual amount of melodrama one might expect involving theater types. There's fighting, cheating, and a possible pregnancy among Riggan's co-stars (Naomi Watts, Edward Norton, and Andrea Riseborough), plus he also has a daughter recently out of rehab (Emma Stone), a best friend stupid enough to risk everything with him (Zack Galifianakis), and an ex-wife (Amy Ryan) to remind him what a bastard he's been.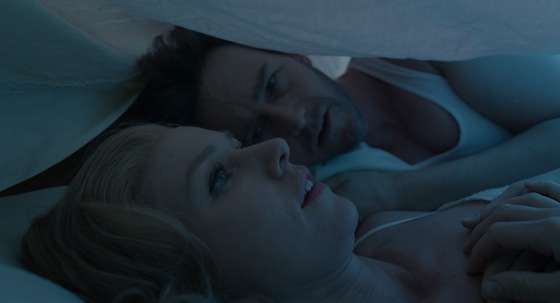 None of this is what makes Birdman special. Instead, it's the sure-footedness of its style and the personal conviction Iñárritu brings to Riggan's conflict. The argument at its core is an internal one, made real by Riggan's constant inner dialogue with the Birdman himself (voiced by Keaton in a hilarious Christian Bale-like low rasp). Where will all of his high artistic goals get him? Who needs credibility? At the same time the film holds up these ideals, it swipes at the general narcissism and ego that usually goes with them. And with the hilarious Norton in the role as the ultimate method actor, the film frequently gets to have it both ways.
Ironically, Norton's character—a petulant, self-obsessed snob—is the most honest person in the film. He admits to being a liar in everyday life, but the one place he doesn't lie is on the stage. That's hallowed ground. Iñárritu's newfound sense of humor means that as he constantly flirts with the idea that actors are above the rest of us mere mortals, he's able to turn right around and take them down several notches—as recommended by the Birdman, who hates "talky and philosophical" movies. In other words, Birdman is full of contradictions.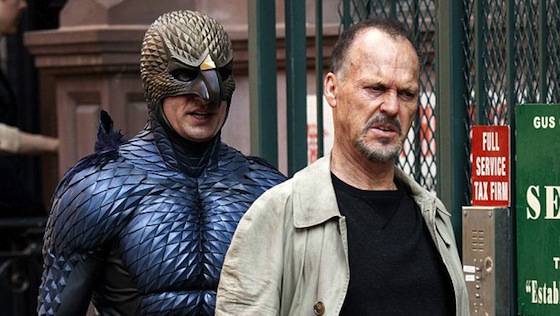 The film's criticism of the current superhero trend in movies is facile stuff, made meta by its casting (Batman and The Incredible Hulk, don't you know) but no more compelling. But when Riggan gets lost inside his head and falls prey to its charms—buoyed by big-time symphonies and superpowers—the contrast is exhilarating. His daughter's insight into social media is less than astute, but it sets up another unforgettable moment. The flashy one-take narrative choice, in fact, is the best thing about Birdman, because its script can't quite make up its mind where it stands.
We are led to believe that rehearsals for the play are going horribly, but test audiences seem to like it well enough. From what we are able to see of it (and from what Norton's character says about it), it's pretty trite and awful. Yet Norton stays in the play, striving for truth. The uptight New York Times theater critic (Lindsay Duncan) is such a fantasy that she could only exist this way in the mind of an actor, yet her actions are a real-life lynchpin of motivation and causation.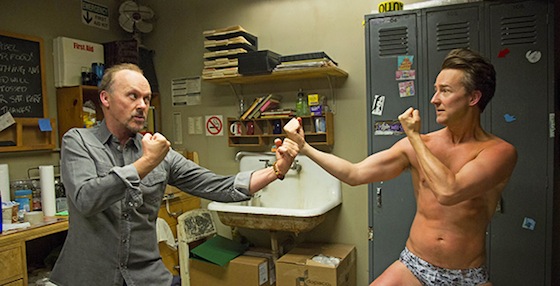 Regardless, in Birdman when Iñárritu piles on the misery, he does it with a knowing nod and a personal investment we haven't seen since 2000's raw Amores Perros. How autobiographical is it? Well, it's about an artist's self-worth and how he measures it against public perception. It's also about getting older, and how your outlook morphs once you've accepted the things you cannot change.
Subtitling your film The Unexpected Virtue of Ignorance and scoring it with hardcore be-bop drum solos is about as pretentious as you can get. Having two mostly naked grown men wrestle like children and making the jazz drummer materialize unexpectedly at various ransom moments, however, shows a playful side. With Birdman, Iñárritu is grappling with the same things Riggan Thomson is, and it seems like he's winning.