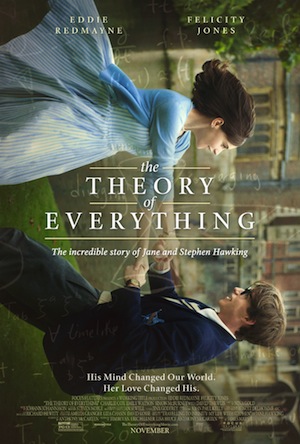 This review appears at Lawrence.com.
[Rating: Minor Rock Fist Down]
The opening scene of The Theory of Everything tells you all you need to know about the film. Two young Cambridge students, Stephen and Jane, are at a gathering and they see each other from across the room. They each ask the person they are with about the other, and exchange glances. Before you know it, they're having a conversation and romance is in bloom.
It's a corny scene with all the soft focus and swooning you've come to expect from bad rom-coms and it's made all the worse by the fact that the two people in question are the brilliant physicist Stephen Hawking (Eddie Redmayne) and his soon-to-be-long-suffering wife Jane (Felicity Jones). You'd think that a movie about this complicated, one-of-a-kind relationship wouldn't begin with the worst romantic cliché in the book, but there it is.
To make things worse, the pair immediately begin debating—in the most obvious way possible—the whole science vs. religion thing. This telegraphs the idea that director James Marsh and screenwriter Anthony McCarten are going to tell an extraordinary story in the most ordinary way possible.
Hawking, of course, will develop a motor neuron disease related to Lou Gehrig's disease that will render him virtually paralyzed, and he will go on defying doctor's expectations not only for his continued survival but with his groundbreaking scientific theories and observations about the universe. Meanwhile, Jane bore 3 children, kept the family together, and began a relationship with a church organist.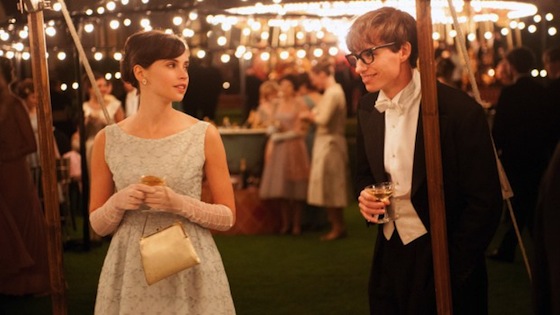 The central conflict of the story—based on Jane's autobiography Travelling to Infinity: My Life with Stephen, revolves less around the difficulty in managing these roles than it does the melodramatic love triangle. The Theory of Everything has the slick sheen of a prestige Oscar-bait picture, and its frustrating that it continues to view this most unique relationship—one which surely has more contradictions and asterisks than 99 percent of marriages—through the same lens of every other rose-colored biopic.
Hawking's goal is to discover a single unifying theory that explains the universe, and the movie has already decided on a single, familiar mode of storytelling. Do we need the typical home-movie montage where the dialogue is muted in favor of a stirring musical score where the audience fills in the blanks and adds their own resonance? There are a ton of practical questions raised by the arrangement of their marriage, but few of them are answered with honest candor or anything that would raise the level of storytelling.
Some questions—like the ones about whether Hawking's man parts operate normally—are handled as cutesy jokes. Children appear, and we know it will be hard work for the couple to raise them, but there's nary a sign of physical intimacy surrounding this. We never quite feel Hawking's solitary detachment from the rest of society as a result of his condition, even as we sympathize with him. It's not Redmayne's fault. The actor is entirely convincing and somewhat of a revelation in the role. But he has zero chances to dig deep.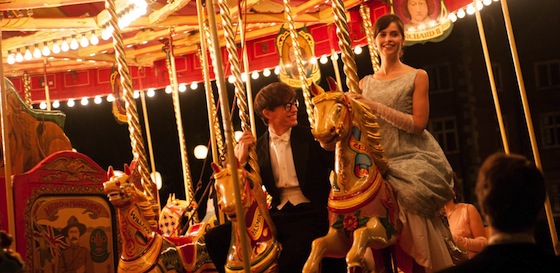 There are a few hard-nosed, pointed remarks from Hawking—one of the most brilliant minds of the century—and very few truly selfish moments, despite the fact that even as a purely inspirational figure, he's earned them. The same goes for Jones' Jane, whose sacrifices just keep piling up. This renders the portrayals, however remarkable the performances are, too saintly and mawkish.
We learn little about Hawking's strength to survive; only that he does survive, against all odds, after an initial diagnosis of 2 years. Viewers looking to see a challenging and enlightening perspective on a similar condition should see The Diving Bell and the Butterfly, which uses pioneering camera and narrative technique to get inside the mind of its paralyzed protagonist.
The Theory of Everything is a major disappointment given the level of talent involved and the subject matter. The love triangle angle is possibly the worst one that could have been taken, and no scene bears that out quite like the overheated moment where Marsh cross-cuts between Hawking being rushed out on a stretcher during an opera just as Jane and the "other man" consummate their relationship on a sunny day. It's not just obvious, it's all-around distasteful.