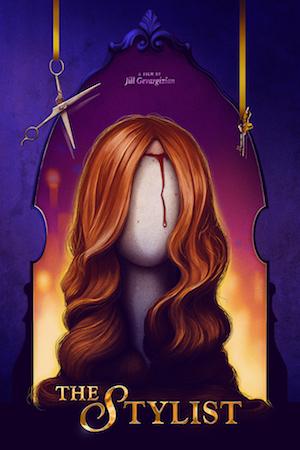 [Rating: Solid Rock Fist Up]
Available now on the Arrow Player streaming service.

"We all want what we don't have…"
That line perfectly summarizes everything in The Stylist. It tells a tale about a lonely, unassertive Midwestern hairdresser (Najarra Townsend) who tries to balance her unstable fascination with other women's hairstyles by scalping the heads of her customers to wear their hair. When she's asked to participate in a customer's wedding, her obsession unravels and becomes more than skin deep. What started as a clever 2016 dramatic horror short film has been turned into a feature film via a Kickstarter campaign. The result is a suspenseful, riveting experience that cleverly walks the line between the horror and thriller genres.
Townsend's character, Claire, is a sweet combination of Sweeney Todd and Leatherface. She plays her role socially awkward and unbalanced. Compared to how she's shown in the short film, her character here is downright sympathetic at times. The movie reveals just enough about her through her emotional reactions and attempts to connect to people. Using technology and her views of others gives us an insight into her madness. The perspective almost shows us Claire's point of view without revealing her true intentions. Her personality shifts with every wig she adorns to escape her own life, and Townsend displays every disfunction of Claire, sometimes without saying a word.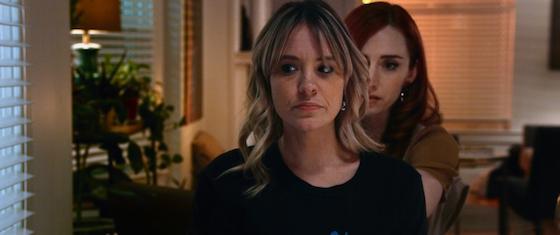 There's definitely a dichotomy between Claire and the bride-to-be, Olivia (Brea Grant). Both actresses play their roles like two sides to the same coin. While Claire is lonely and unsure, Olivia is engaged and confident. The writers, Eric Havens and director Jill Gevargizian (along with Eric Stolze), have expanded their script from an interesting short to a solid feature that keeps the viewer's interest with clever storytelling that doesn't rely on the typical genre tropes. Gevargizian uses the camera to take you into Claire's perspective. Set in slow-motion, the hairdressing scenes are stylish, showing the beauty of cosmetology. She also uses specific locations to highlight Kansas City almost as a character but definitely as a backdrop. I found myself playing a little mental game, trying to figure out the shot locations. The ending was predictable, but that didn't take away from the story's exciting conclusion.
In addition, the production design and costumes were on point. Claire's wardrobe was soft and nostalgic. Credit goes out to cinematographer Robert Patrick Stern and his team for scenes that pop with vibrant color, even in dimly lit situations. The lighting for Claire's place was particularly memorable, balancing warmth and creepiness. The editing is unique and crafty, using split screens and soft, dreamy transitions to keep the story moving.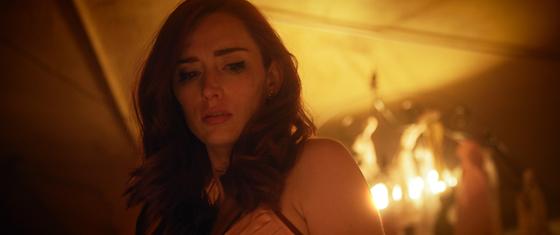 A slow burn at specific points, The Stylist uses the horror/thriller motif to reflect the anxiety and depression of today's broken society through the eyes of a killer that is just dying to give you a wash and set. It's nice to see a short story open up to a quality version of a feature film. I would recommend it for thriller fans that can handle a little bit of gore because it's definitely fun! In this case, the audience definitely gets what they want.