An out-of-place "Law & Order"-style opening narration clues you in that "The Strangers" was "inspired by real events." The authoritative voice goes on to tell you some statistics about violent crime (as the movie prints them for us to read as well) before ending with the shocking admission that, in this case, nobody really knows what happened.
(It reminds me of the Coen brothers "Fargo," which stated "This is a true story" in the opening and claimed that all persons were fictitious in the closing credits.)
It's not "shocking," of course, that writer/director Bryan Bertino would lead the audience astray. Yes, violent crimes happen. No, this movie is not based on any one couple in particular. Cheap scare tactic? Why not? "The Texas Chainsaw Massacre" was falsely marketed as a true story too.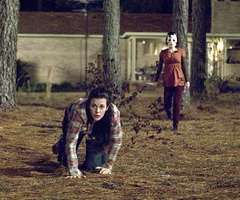 Bertino is skilled enough at telling his stalker-horror story with all the classic elements of a good suspense film, so giving it the "real events" tagline just further convinces that this could happen to you. "The Strangers"—starring Scott Speedman and Liv Tyler as James and Kristen, a young couple who are terrorized late at night in a summer house—is all about perspective. We meet the couple after a marriage proposal gone bad. A very convincing opening sequence with lots of silence doesn't reveal why James' offer was rejected, and it doesn't have to.
It is too bad that the villains' motives couldn't have been left unspoken as well.
Simple in its setup and implementation, "The Strangers" makes the most of three masked psychos stalking a couple. Modestly shot with hand-held cameras and low camera positions, the movie puts you in the same spot as the victims. The sparse use of scary-score music puts the emphasis instead on scratchy old country records, loud knocks on the doors, and more silence. Bertino knows what he wants, but after a good 45 minutes of playing every tastefully suspenseful card in the deck, the movie begins to drag and the spookiness is replaced by ridiculousness.
For a while there, it looked like Bertino would avoid the classic horror pitfalls. Hey, a couple of them are fine—they're staples of the genre, right? They're in there because they work well. True, but when you resort to them to stretch out time while tension is supposed to be mounting, that's not so good.
The eventual 'unlikely character decisions' surface, as James does something really stupid—twice.
Not only do the bad guys have the ability to be everywhere they need to be to maximize their stalking potential, but they also have time to write nasty messages on the walls and windows for our protagonists to see.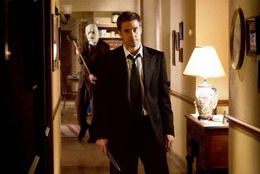 "Look! There's somebody over there!" but a second look reveals—nothing! The 'suddenly disappearing villain' is a good trick once, maybe twice; but after the sixth time, it doesn't make very good suspense-sense.
Thank God the torture in this movie is mostly psychological, though. I've got to credit Bertino with the sense enough to not resort to shocking gore to make up for lack of suspense. The final act, however, is as messy as a plate of spaghetti.
Little time is spent with the masked assailants—which is fine—until the moments they do get are completely wasted. "Why are you doing this?" is the cry that Kristen repeats during the attack, and it's the question on our minds as well. The answer reduces any existentialist nightmare the filmmaker may have conjured up in the previous minutes to a pithy punchline. Following that, there is further unnecessary development on the trio's part and a sad attempt at irony occurs with two young Mormon pamphlet-pushers.
Not only does this ruin the ending, but after avoiding the typical for as long as he could, Bertino gives in for one more final, ruinous horror convention that I won't reveal (unless you click here).
There's enough good in "The Strangers" to make a very frightening short film, but as a feature-length movie, it falls into too many of the traps it seemed so determined to avoid.