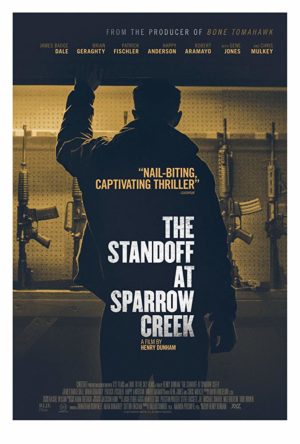 [Rating: Solid Rock Fist Up]

Getting it out of the way early, yes indeed The Standoff at Sparrow Creek is similar to the classic film The Usual Suspects. Don't quote me on that film since it's been ages, but it's iconic enough not to compare the two. But it's certainly a mystery whodunit with a group of men gathered in a central location wondering if one of their own has double-crossed them. This mystery creates not only tension and uses sharp pacing, but also shadowy lighting to its advantage to create a damn fine job in paying homage to classic noir. Directed by Henry Dunham, his directorial debut impressed even this reviewer.
The plot of this film is very character driven, with each character having their own unique personas, but not being too open to one another to know who might have done the crime. There's ex-cop Gannon (James Badge Dale) who has turned his time over to a militia with members like Noah (Brian Geraghty), Beckmann (Patrick Fischler), Neo-Nazi Morris (Happy Anderson), the silent one Keating (Robert Aramayo), Hubbell (Gene Jones) and Ford (Chris Mulkey). Each man is a suspect in the crime of staging a mass shooting at a police funeral. Gannon, being the ex-cop wants to figure out who did this massacre and if by any chance it came from his group. In a warehouse by the titular Sparrow Creek, Gannon questions everybody as a suspect, and the group learns even more mass shootings are happening around the country by either fellow militia men or one of their own. This leads the group to not trust each other and one member the "Keyser Soze" of sorts to step forward. But is this shady figure really the one in charge of these attacks or is there somebody working on the outside to bring these men down?
Again, The Standoff at Sparrow Creek offers some skilled pacing, one that is typical for these whodunit mysteries. It is a very short movie but does a lot effectively in its short runtime. When something eventful happens, something else happens to contradict previous events, making one guess again at who could be in charge of these attacks. The lighting is mostly flood lights in this warehouse the men use as their base, and the filmmakers translate that into more of the noir/neo-noir type elements. It's understanding that the lights are used to create minimal presence for cops or whoever to find them, but it is an advantage taken. It also helps in the creating shadows that were noticeable in hiding the men's faces, creating the illusion maybe all of them really don't know one another.
Dunham's directorial debut is one check mark for the books. The Standoff at Sparrow Creek is a intense and cautious thriller flick that hopefully will get its due with viewers. Skillful in pacing and use of lighting to make it feel like a classic noir, it'll leave you guessing until the finale when all is revealed…or is it? The Standoff at Sparrow Creek is available on VOD and Digital HD now.