This review appears originally on Lawrence.com.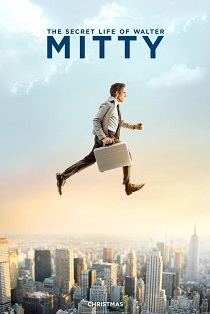 Ben Stiller's The Secret Life of Walter Mitty, adapted from a two-page 1939 short story from James Thurber about an ordinary guy who has fantastic daydreams, starts out lighthearted and wistful before devolving into hollow travelogues that lack the sense of adventure of his fantasy life.
The movie then becomes a weary, self-serious message film about—of all things—earning your beard.
Mitty (Stiller) has worked at Life magazine in the negative assets photo department for 16 years. As the magazine begins to undergo its inevitable downsizing to an online publication only (which happened for real in 2007), he becomes responsible for the last cover photo of its print edition. The new hotshot thirtysomething bosses who are doing all the firing (Adam Scott chief among them) have ridiculous beards. They're jerks. They look like teenagers wearing Halloween costumes, and the beards reinforce their lack of experience and moral authority, despite their position of power.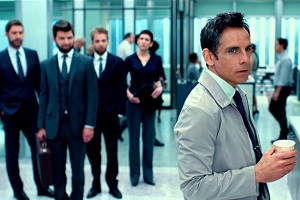 As Stiller digs into a very forced mystery about the missing cover photo, he develops a natural rapport with Cheryl (Kristen Wiig), the co-worker he tried to friend on eHarmony.com. Moments in his real life become jumping off points for his fantasies, and he musters the courage he lacks to quell his enemies—such as one scene where he surfs the pavement in Manhattan in an effort to defeat his bearded boss.
But as soon as Walter leaves New York to go on his "real" adventure, the movie becomes series of easy-cheat montages that lack the conviction of the movie's message. The helicopter landscape shots of Greenland and Afghanistan are aesthetically pleasing in the same way a tourism board commercial might be, but Mitty's escapades get increasingly less specific and interesting.
Of course we all know where this is heading—into a Papa John's commercial. Wha? Believe it or not, The Secret Life of Walter Mitty actually does sport some of the most blatant product placement of the year, but guess what Walter grows on his overseas adventure? A beard—and not a fake-looking, obnoxious young-guy beard, but some lightly trimmed stubble that looks oh so handsome on his newly experienced face.
This is just an example of the way The Secret Life of Walter Mitty cheats its audience. It fast-forwards past a ton of struggle and conflict to get its character to a heroic place, and after the CGI-heavy daydream scenes, the real-life scenes just lose their luster.