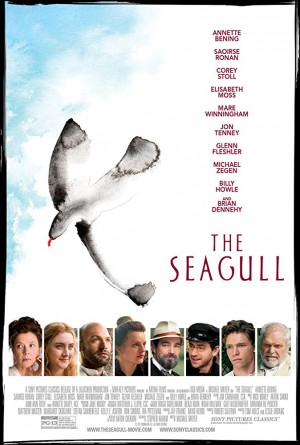 [Rating: Minor Rock Fist Down] 
I love theatre and the art of acting. Sometimes acting styles don't translate well to film. And centuries-old plays sometimes don't translate well in a modern context. Take this new adaptation of Russian playwright Anton Chekhov's The Seagull. Directed by Michael Mayer (Broadway's Spring Awakening), it is a study of acting and relationships, filled with a talented array of actors. Sadly, The Seagull never gets off the ground and is a humdrum bore.
A lot goes on in this film and a lot of different Russian names get thrown around. So for a simple take, actress Irina (Annette Bening) visits her brother ailing brother Sorin (Brian Dennehy) and son Konstantin (Billy Howle). She brings with her a lover Boris (Corey Stoll) who begins a love affair himself with Konstantin's girl, Nina (Saoirse Ronan). Mishap ensues, love is tested and the titular bird is shot. Yes, this is about as exciting as this film gets.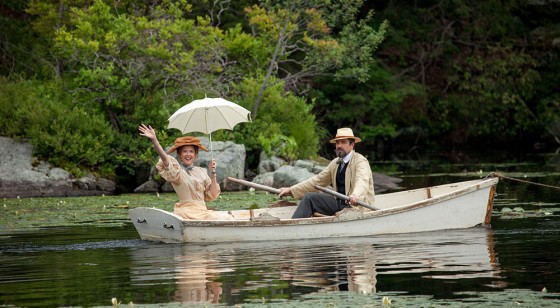 This entire cast feels so uninspired that half the time I couldn't catch who was with who or what everybody was talking about. This partially of course lies in the translation of the text. I sadly do not know much about this play and regret not doing my research before. I came for the performances of Bening and Ronan and sadly, both felt underused here. Ronan has a great speech in the end comparing herself to a seagull and even then, that's about the best thing she does in this. The film also takes the Amadeus effect where all of these Russian parts are played by Americans who use their own accents, as well as having this story being filmed in upstate New York.
A few years back, I thought Denzel Washington was skillful in adapting Fences to film while still keeping the heart and soul of the stage play alive by including about 99 percent of that story's dialogue. The Seagull feels much like that, but damn is it boring! It's more shlock than anything as these accomplished actors speak their lines, but never get the real emotions out they are capable of. These are professional actors who usually do great work, but in this movie, it all seems like amateur hour and that's a damn shame.