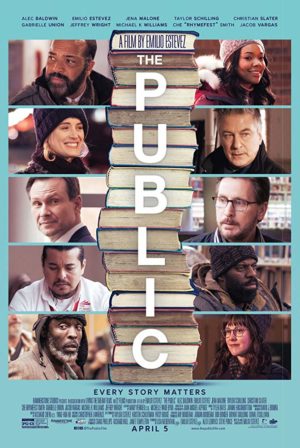 [Rating: Swiss Fist]
Emilio Estevez is an interesting dude. He's from this well-known Hollywood family, but flies largely under the radar. I remember him from The Breakfast Club and Mighty Ducks, but he also wrote and directed Bobby. And also married Paula Abdul. He's Charlie Sheen's brother, but flies scandal-free through the world. So when his name pops up I go, "Oh yeah… what is he up to?"
Well, he's making movies. The Public shows off three facets of Estevez – the writer, the director and the actor.
The writer wrote a pretty clunky script. Focusing on librarian Mr. Goodson (played by Estevez) as he reluctantly becomes the face of a group of homeless men as they refuse to leave the library during a brutal cold snap in Cincinnati that has already claimed their friends.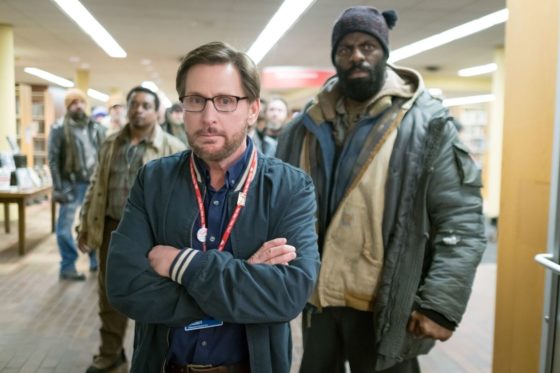 It's heavy handed, it pretty predictable, and the dialogue is tough to pull off sometimes – even with quality actors like Jena Malone, Alec Baldwin, Jeffrey Wright, and Michael Kenneth Williams delivering them. The villains are cardboard and there's a lot of the "power of the human spirit" crap that makes me itch. Also – why are there no female homeless people at the library?
And I was rooting for the film – it has the hallmarks of things I love, like libraries, underdogs and conscience v. legalism. Christian Slater's District Attorney character is bent on winning a mayoral election, but is so short-sighted and unable to change his mind it's absurd, while Baldwin's personal connection to the people inside the library does nothing to change his mind about the situation.
These versions of those stock characters put the action at a dead stop.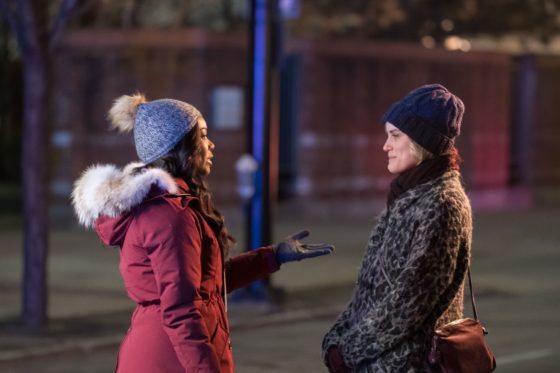 The director had a pretty easy job – because this is a master cast, also including Gabrielle Union, Richard T. Jones, and Taylor Schilling. And they're all bringing solid game to the table.
But that script is hard to overcome.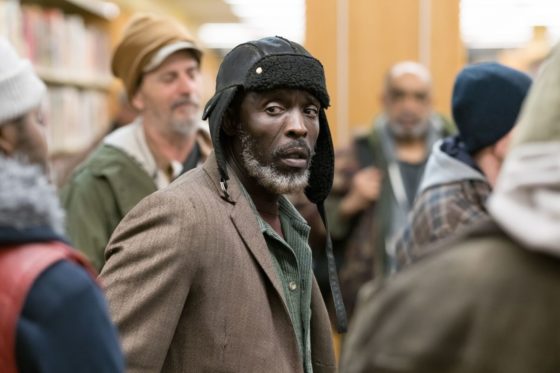 It's a sweet, well-intended movie that makes great ethical points. But it's very familiar and the lack of dimension in the roles (and there are so many characters) means that everyone is playing a type (some with no character arcs), rather than a three-dimensional character. In a movie that is so full of players, it ultimately is to the detriment of the film.
It's a feel-good movie and a pleasant watch, but The Public doesn't quite get to the movie it could have been.