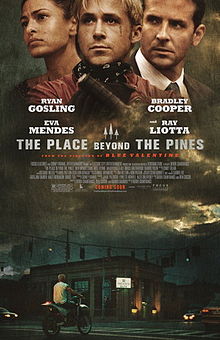 Director Derek Cianfrance follows his breakout independent film Blue Valentine with The Place Beyond The Pines, a film that begins as a small-time crime drama before unspooling into a story about fathers, sons and the legacies we leave our children.
Ryan Gosling plays Luke Glanton, a stunt rider in a traveling carnival content to travel from town to town, enjoying the one-night stands and badboy lifestyle he's both cultivated through his numerous tattoos and earned with his hair trigger temper. But on a return trip to Schenectady, New York he's confronted by the consequences of one of those flings — he's a father. His reaction to this news isn't to run away or continue on to the next town. Instead, he's imbued with a sense of fatherly duty. He wants to provide for his young son and for his mother, Romina, played by Eva Mendes.
But it's the way he chooses to do this that provides the film's backbone. The Place Beyond The Pines features a robbery, that's evident from the trailer, but the consequences and how far they echo through the lives of the people around Glanton and Avery Cross, the police officer who pursues him are only hinted at.
Bradley Cooper
plays the young officer who responds to the crime and deals with the subsequent fallout and aftermath, and as the story unfolds into something much larger than cat-and-mouse chase, he plays his character perfectly. Between his work here and in
Silver Linings Playbook
, he's quickly become an actor to look out for, especially once he's free of
The Hangover
 franchise. Here, he's complex and charismatic, while still being driven by high expectations from himself and his father.
We also get great turns from other vetted character actors Ray Liotta and Bruce Greenwood. But the standout here aside from Cooper is Dean DeHaan. Though he's played this type of character before, DeHaan lends a wounded vulnerability to his character  that makes him sympathetic and relatable.
That's one of the strongest things going for The Place Beyond The Pines, all of the characters have understandable and human motivations. They're grounded and sympathetic, even when they do unsympathetic things, and while this film is significantly bigger in scope than Cianfrance's last film, his attention to humanity in the characters is evident.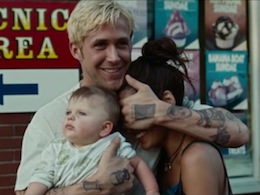 Also evident is the level of care that went into the production. Cianfrance uses handheld camerawork in a way that is involving and visceral. The film's long opening is extremely reminiscent of The Wrestler, but goes a long way in establish Gosling's character and the way people react to him. Likewise, the scenes later that focus on chase scenes create a sense of speed and relative motion that is tangible and thrilling. This is specifically true of a riding scene that takes place in the forest. The sense of speed is so strong and the use of a wide angle lens makes the background look flat, almost like a painting.
The film's editing is spotless and subtle use of background music gives it an almost Fairy Tale vibe. Especially the occasional us of "Ninna Nanna Per Adulteri" by Ennio Morricone.   The film's open-ended conclusion is capped perfectly by a song from Bon Iver that overwhelms the final frames before washing beautifully over the credits.
The film's only real missteps come in its pacing, which makes the third act drag, while simultaneously rushing through its story. And there are a few too many coincidences toward the end, but even they aren't enough to detract from the investment in the characters and the overall story Cianfrance is trying to tell.
The Place Beyond The Pines isn't the film most people will expect from the trailers. It's better. It forgoes a simple genre romp or chase movie in favor of something more ambitious and affecting. It might be more than some people are willing to invest in, but those that are will find a film with beautifully drawn characters and that looks at legacies both intentional and otherwise, often with quiet, brilliant results.