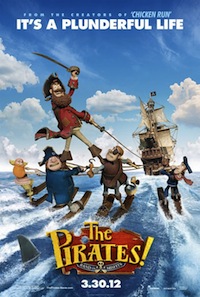 The latest release from Aardman Animations, The Pirates! Band of Misfits, hits theaters this weekend. Aardman, the studio responsible for Flushed Away, Chicken Run, and perhaps most famously the myriad of Wallace and Gromit vehicles, has set a precedent for creating smart, funny and very British children's tales. The same is true of The Pirates!.
The Pirate Captain (Hugh Grant), an earnest if not altogether successful buccaneer, dreams of becoming Pirate of the Year, a coveted prize that goes to the pirate who collects the most booty, but the Captain's crates of plunder are all but empty.
He and his men decide this is their year, so they board any vessel that comes close. After boarding a plague ship, a ship devoted for an elementary school trip, and a ghost ship, the Pirate Captain boards the Beagle and takes Charles Darwin (David Tennant) captive.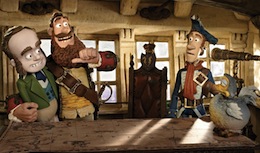 Darwin's ship is devoid of riches, but the scientist does point out that the Pirate Captain's overweight parrot, Polly, is in fact the only remaining dodo.
With a new plan of action and a priceless pet, the Pirate Captain points his ship's forepeak towards London in the hopes of garnering riches from the scientific community. He and his men will just have to avoid the watchful eyes of Queen Victoria.
As you can tell from my description, there is actually a lot going on in the story. The humor is often multilayered and smart, shifting from funny visual hijinks to more subtle moments.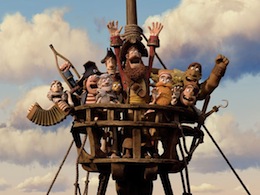 Though we encounter Darwin, The Pirates! steers clear of any arguments for or against evolution instead using Darwin both as an historical figure and a forlorn lover, pining due to his unrequited affections.
The story, though neither shocking nor dazzling, is solid and well conceived, and the stop motion animation has a wonderful tactile quality, which grounds the occasional computer generated elements.
The Pirates! Band of Misfits is a solid family option that thankfully contains enough smart content that it should keep parents from dozing off. The humor is subtle. So don't expect many laugh-out-loud moments, but do expect to leave the theater satisfied.