It's hard to imagine that I was in eighth grade just 10 years ago. Ten years ago the world was different; the way an eighth grader viewed the world was completely different. Ten years ago nobody could see the impact that small things like cell phones could make on a young person.
Comedian Bo Burnham's directorial debut Eighth Grade takes a fresh perspective of what it's like to grow up through the eyes of an eighth grade girl today, her struggles to fit in, and her struggles at home. In a long list of coming-of-age dramedies, Eighth Grade is one of the first that I have seen that shows how children in today's society have changed because of the advent of social media, and how much harder it seems to find a place in the world that isn't through a screen.
Eighth grade is a hard year for kids. You're going through the motions of puberty and high school is in the near future, destined to kick your butt. It is a terrible, awkward stage for most. Kayla (Elisa Fisher) is near her eighth grade graduation. She spends her free time (considering her lack of friends) making YouTube videos that talk about confidence and how to impress people and make friends. Her real personality is shown through these videos. At school, she's voted "Most Quiet," reflecting her perfectly.
Her home life is no different, mostly aloof from her father Mark (Josh Hamilton) who tries his best to be there for his daughter, and try to understand her. Kayla tries to be more outgoing by pushing herself to go another girl's pool party, despite the girl Kennedy (Catherine Oliviere) wanting nothing to do with Kayla. All of Kayla's frustrations and anxieties pause when, after a day at the local high school to prepare for the following year, Kayla befriends senior Olivia (Emily Robinson) and her friends, which impacts her and makes her come to terms with what the future of high school will bring for her.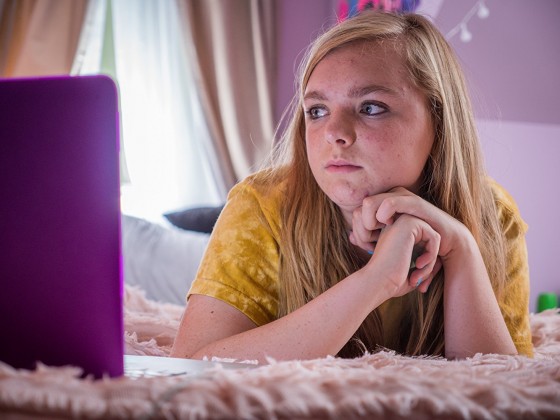 Despite the big hype surrounding this film, I thought it was just okay. Often I couldn't find myself relating to Kayla in eighth grade, considering my graduating class was 20 kids. However, I could understand this and relate to it in a more "high school" approach.
The bigger aspects of this film, mostly talking about how kids today grow up with iPhones and iMacs in their hands are becoming mindless zombies with no social skills, was beneficial to give this a lighter feel. I wonder why most of my audience laughed at the bigger "jokes" in this. Is it because they remember a time when they were pimply teens, or simply laughing because Kayla can relate to almost anyone?
Eighth Grade is a success in the media age. I have seen kids as young as eight talking about how they're going to get the newest iPhone when they save up enough (I'm not even joking). Kayla's experiences, along with Burnham's script, reflect the changing times kids face everyday. Confidence building is key to any childhood development, but with that black mirror in front of our faces, sometimes it can be hard to push ourselves in the real world to connect with others. Eighth Grade reflects the awkward pre-pubescent kid in all of us, waiting to grow up and become socially awkward, yet confident butterflies.