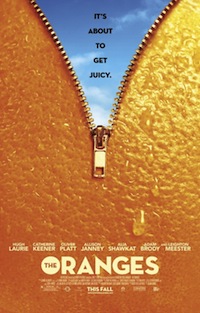 Oh Juno how you have forever changed the landscape of semi-dramatic comedies, and not for the better. I understand that actual family drama has been distilled over decades, perhaps much longer than I even perceive, by silly thoughtless comedies and television sit-coms. Family Ties tried to deal with teen sexuality in a short punch-line-filled half-hour. Home Improvement tackled everything from alcoholism to breast cancer, and always managed to make a point, or at least get to the credits, in 30 minutes. So I know it's not just Juno, or the despicably simplistic writing of Diablo Cody, but some days it sure feels like it.
These pop culture dramatic reductions only have time to mention a real life crisis, before awkwardly resolving the issue, by using a well-placed cut, a dip to black, prescient voice over or a music montage. Thus teen pregnancy, infidelity, lame douche-baggery can be fixed within the constraints of a normal length feature comedy.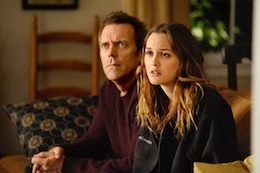 And now to The Oranges. It's the story of two families, the Wallings and Ostroffs, who are neighbors and lifelong friends. When Nina Ostroff (Leighton Meester), the estranged twenty-something daughter of the Cathy (Allison Janney) and Terry (Oliver Platt), returns home after a long hiatus, it more than irks the Walling daughter, Vanessa (Alia Shawkat), who is struggling with under-employment and a lack of ambition. Things are made all the worse for everyone, when the all-but-dead marriage of the Walling parents, David (Hugh Laurie) and Paige (Catherine Keener), is pushed to the breaking point by an affair between David and Nina.
Fading marriages, aimless college-aged youth, May-December romances, and a stunningly good cast – there is some potential here.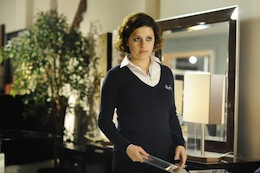 This film is not without its charms and poignant moments. Laurie manages to balance the mix of sadness, selfishness, taboo pleasure and loss that one might expect from his illicit affair and subsequent romance. Keener is often frantic, but gives weight to her role when it's called for, and Platt plays a wonderfully bumbling and ineffectual husband to Janney's viciously controlling Cathy. Real conversations do take place about the reality and awkwardness of the separation and new relationship, but jokes about old balls, fake Asian folk sayings and Cathy's rediscovery of husband Terry's penis serve to taint the content of The Oranges. Add to that rushed emotional arcs, and quick solutions to life-altering problems, and you get a film that's just okay.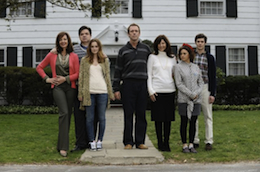 The Oranges is directed by Julian Farino, who not surprisingly has worked most of his career directing for TV on such series as Entourage and Sex and the City. He does more than you might expect, but not a whole lot more. No stunning visual storytelling here, just a longer TV style pragmatism.
The main draw of The Oranges is it's cast, and if all six of its main actors weren't so inarguably appealing then this film just wouldn't work. Because the cast it great, it might make a good date night film, but is probably better suited for an on-demand or rental night in.