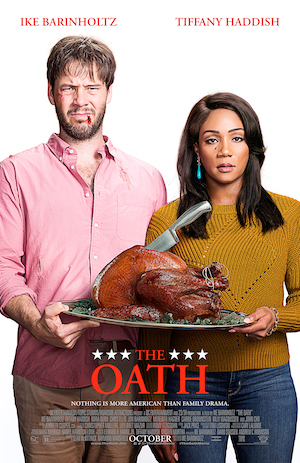 [Rating: Minor Rock Fist Up]
A prescient social comedy whose commentary satirizes a frightful history written with ink not yet dry, The Oath takes a look at the effects hardcore political divisions have on relationships and family. Set in an undefined alt-reality very much in the vein of "Trump's America," it supposes that political divisions have brought the country to the brink of ideological collapse. With this backdrop, The Oath concerns itself with the way bonds between parents, siblings, and spouses are tested by sociopolitical differences, only to then veer off into a zany caper-comedy when the aforementioned effort becomes too unwieldy.
In The Oath, Chris (Ike Barinholtz) and Kai (Tiffany Haddish) are a middle-class suburban couple with an upcoming Thanksgiving gathering at their home. For almost a year, they've been grappling with the government's upcoming Black Friday deadline to sign a loyalty pledge. This initiative encourages all citizens to reaffirm their commitment to the state in writing, and while there are no penalties for those who refuse to do so, rumors of "disappearances" for those that don't comply abound. Chris has been actively protesting and organizing against the loyalty oath while Kai, vocally supportive through all of this, has been encouraging restraint ahead of Thanksgiving dinner.
A Twitter and cable news junky prone to immediate outrage, Chris can't help himself, however, and with his family, keeping his cool is the equivalent of playing life with the game settings switched to 'HARD.' His parents belie their conservative apathy with refrains of "no talking about politics" while Chris' brother, Pat (Jon Barinholtz), and his MAGA girlfriend, Abbie (Meredith Hagner), needle their liberal host with #fakenews and whataboutism refrains. And although Chris' sister, Alice (Carrie Brownstein), sympathizes with her brother's principled stand against the oath, like Kai, all she really wants is a drama-free Thanksgiving.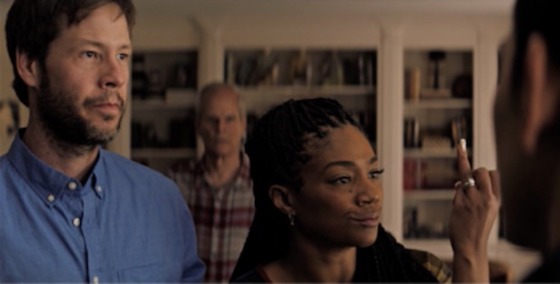 This is where The Oath begins to split against its own grain, though, for it can't seem to reconcile whether it wants to pursue the implications of this loyalty pledge business or evolving interpersonal family dynamics born out of political disagreements. The film starts as a what-if political satire that weighs the slippery slope consequences of an authoritarian presidency versus familial obligations and the dramaturgy of the holidays. When agents from the "CPU" (a Homeland Security off-shoot) arrive at Chris and Kai's house to question them about a complaint they received about Chris, the movie about Constitutional liberties that was subsumed by a story about a family's political divides is once again absorbed by a wacky hostage comedy.
The film can manage the merging of two such narratives, but not three. If The Oath were to keep its focus on a micro examination of familial bonds in a politically charged era, it might have been able to flesh out some poignant truths, yet the chaos that follows from the CPU agents' visit pulls the film out of the manageable framework the first act sets up. One bad decision leads to another, and before anyone knows what's going on, guns are drawn, hostages are taken, and the script digs itself into a hole not easily escapable. The movie abandons its exploration of how family bonds strained by politics can be healed (or if they even should be), and goes all-in on the CPU boondoggle.
Besides being the star of the film, Ike Barinholtz also wrote and directed The Oath, and watching it, one gets the sense that the script started to get away from him at around this point. The loyalty pledge gets the narrative to an interesting place as a set-up for humorous holiday conflict, yet as the story moves into its CPU phase, it transforms from a pointed social comedy into a straightforward situational farce. This doesn't make it a bad movie by a longshot, but it does dilute the potency of a story that starts well and has a number of timely ideas laid into its foundation.

Barinholtz and Haddish do justice to the material with their performances, with the latter in particular adding a fair amount of authenticity to a role that might have just as easily come off as a wet blanket trope. Nora Dunn, as the family matriarch, also steals most of the scenes she appears in, an impressive feat considering she plays it straight for most of her time on-screen. Paced well at a breezy 90 minutes, The Oath doesn't suffer from much fat on the plate, either, and moves well through each phase of the script. It's a credit to Barinholtz that he's able to keep things moving as well as he does, and despite the tonal issues of the script, and its wandering narrative attention, he demonstrates a firm command of the action behind the camera.
Opening this week in a political climate no less contentious than the fictional one presented in the film, The Oath carves out what is admittedly too much space to operate within. Barinholtz has some great ideas, here, and the early Thanksgiving scenes nail the treacherous minefield that awaits many Americans during the holiday season, yet The Oath just isn't able to carry the weight of the picture's second half (funny as it is). Bolstered by great performances by the entire cast, and a relatable set-up that feels all-too familiar in our current political hellscape, The Oath represents a promise worth standing by.