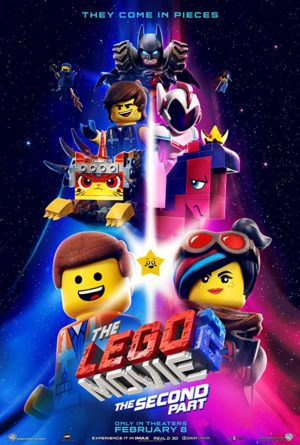 [Rating: Swiss Fist]

I still marvel at the fact that in 2014, The Lego Movie broke not only box office records for an animated feature, but also stole my heart, becoming one of the most surprising and best animated films I have ever seen. The love fest with it turning into a franchise, however, had to end sometime.
While everybody's favorite Lego characters Emmet (Chris Pratt) and Wyldstyle/Lucy (Elizabeth Banks) return in this post-apocalyptic new movie, The Lego Movie 2: The Second Part (directed by Mike Mitchell and Trisha Gum), is a far cry from its predecessor. It introduces some fun new characters but it can't make up its mind what sort of genre it wants to be in, and most of it can be shuffled off with a forced-laughter shrug.

It is five years after the events of Taco Tuesday when the Duplo Lego first attacked the city of Bricksburg, destroying nearly the entire city and anything that was beautiful. In an attempt to stop further invasions, the city and its inhabitants have created Apocalypseburg, a rough new city that at any time will be ready for the next invasion and the impending doom of "Our-mom-ageddon" that Emmet dreams about. Then one day, a new invasion occurs when Sweet Mayhem (Stephanie Beatriz) kidnapps Emmet's friends Lucy, Batman (Will Arnett), MetalBeard (Nick Offerman), Unikitty (Alison Brie) and Benny (Charlie Day) and takes them to the Systar system. In the Systar system, they encounter Queen Watevra Wa'Nabi (Tiffany Haddish) who sings about her possible sinister plans to takeover the Lego universe by marrying Batman. Always the hero, Emmet travels through space to find his friends and along the way meets Rex Dangervest (Chris Pratt) and his raptors, who aide Emmet in the quest to save his friends before it's too late and "Our-mom-ageddon" occurs.

Damn, why is there so much happening in this?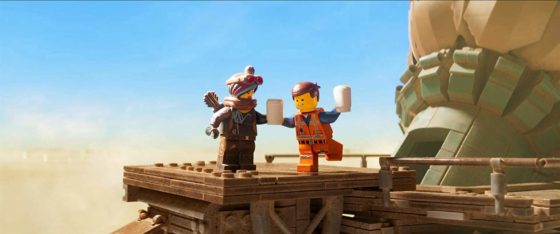 Yes, there is a lot of stuff happening in this movie! There's a lot of plot lines going on with all of the major characters and a lot of events keep it moving along, which is the biggest struggle this movie has. It packs a whole lot into one little movie that it blends too many genres together all at once. Is is it a comedy? Drama? Action flick? Time-travel movie? Parody of all sequels? And, unlike the first movie, this could also be classified as a musical. There's songs sung by characters you would see in a Disney flick instead of just one catchy song like "Everything is Awesome." "Everything is Awesome" is a good song, but an FYI, it's overshadowed by an annoying song in this one fittingly called "Catchy Song." Maybe that is what this movie is going for however, a blend of everything for everybody to at least appreciate something. How meta for an animated feature.

The real big positive that would draw this reviewer back to rewatch this in theaters is how fun the world of Lego is. This cinematic universe knows it's a movie and plays on movie tropes from big blockbuster movies to use for its humor. It breaks the two teams up on their own story lines like The Empire Strikes Back – a typical second movie approach. There is a celebrity cameo in this that makes no sense for children but every sense for adults and every bit of humor in this either a hit or miss for the most part. The Second Part also throw out the cliche theme of "Be Yourself" that every animated movie seems to draw upon these days. Instead, the theme here would be "anybody can be a hero," somewhat similar but without spoilers makes a lot more sense here considering Emmett is a hero despite what his friends might think otherwise.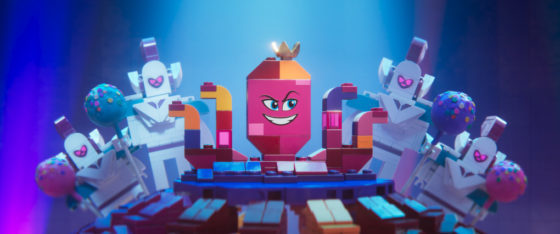 In the grand scheme of things, The Lego Movie 2: The Second Part falls victim to the sophomore slump. The idea of splitting the gang apart is familiar and works okay here, but if this Lego universe wants to be the fun time the first film was, there needs to be some better jokes, and not just one-liners and cutaways. Thankfully, this is still aimed at both adults and children, blending what laugh out loud humor it has to best both target audiences. It's a watchable film, especially for the later half of when the spoiler-y stuff happens, but despite this, The Lego Movie 2: The Second Part is still a far cry from being awesome in every way.