Finally. A good Batman movie, amiright? Say what you will about DC's live action recent movie history, they kick the hell out of it when it comes to the animated material. Throw the Lego toy vault into the equation and you get every bit the wildly awesome, imaginative, exhausting flick you expect from something called The Lego Batman Movie.
The plot is simple enough. Batman and the Joker continue their epic battle against each other, but one of them is missing something from their lives and it's starting to affect their dedication to the endless fight. Humiliated by Batman, the Joker assembles a team of the Lego world's biggest and baddest villains — and they're not all from the DC universe and make for some of the greatest world-building moments.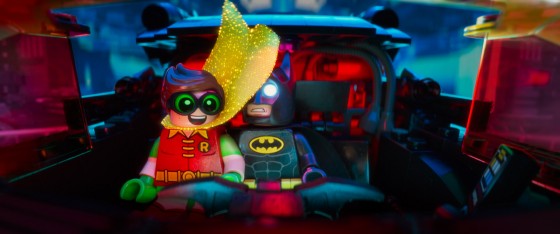 But, you can't have a Batman flick without his rogue gallery, and they're all here — all of them: Penguin, Two-Face, Harley Quinn (Jenny Slate), Condiment Man — and of course, the Joker (Zack Galifianakis.) The relationship between the Joker and Batman is a key turning point in the film and forces both to examine who they are and what they mean to each other. Batman's resistance to admit he needs anyone is personified by the introduction or an obsessive orphan Dick Grayson (Michael Cera), who invades Bruce Wayne's self-absorbed life.
In just two appearances (counting 2014's The Lego Movie) Will Arnett has established himself as the top Bat-voice next to fan favorite Kevin Conroy. Arnett's Bats embraces his loner persona, using his brooding ego to masquerade his true fears — gulp — trusting a new family. He's absolutely make this role his own, but he's joined by a terrific supporting cast including previously mentioned Galifianakis and Cera. Lending their voice talents to the madness are Rosario Dawson as Barbara Gordon, Ralph Fiennes as Alfred, and cameos from Billy Dee Williams, Conan O'Brien, Zoe Kravitz, Channing Tatum, Jonah Hill, Eddie Izzard and Seth Green.
The Lego Batman Movie is a non-stop orgy of geeky eye candy, reaped and visualized from the mind of a ten year-old. It harmoniously balances good animated kid-centric fun and adventure, but lays the sarcasm nice and thick for the big kids. The filmmakers (five freaking writers!) deliver a relentless barrage of jokes, one-liners, easter eggs and references to not only the Batman/DC universe, but several of Lego's proud licensing net. There's so much going on, so much to see, it almost demands a second and possibly third viewing. And Tylenol, because damn, this movie is a hell of a lot of fun, but holy shit is it exhausting.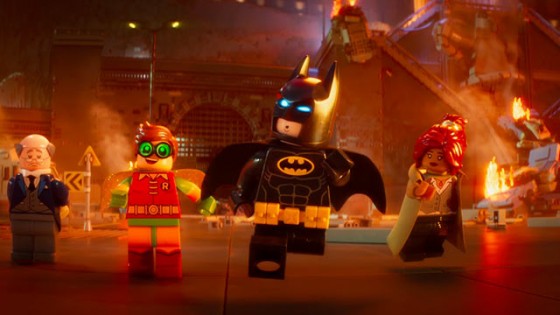 There's something to be said about respecting the source material and a lot of work has gone into the detail and scale to bring not only a defining Batman story to the big screen, but deliver references to just about every Bat-era since the Bat-ception. And the world-building, Wow. Clearly Lego is just kicking the tires on their infinite movie universe possibilities.
Considering the recent selections from DC and Warner Bros. it might be easy (and a little premature) to get overly excited and call The Lego Batman Movie the best Batman movie ever, but it's pretty damn close. The pain of Batman v Superman is still pretty fresh. At the least, it's the best Batman movie since Batman Begins. Either way, it's certainly the most fun.