Q: What movie genre best describes Danny Boyle's newest film, "Slumdog Millionaire," about an orphaned street kid from Mumbai who never gives up hope of finding his lost love?
Romance

                       

C. Social problem drama
Action/Adventure

          

D. Comedy
The answer is all of the above because this electrifying movie combines so many different genres into one film so effortlessly that it would be an insult to peg it definitively as one category or another. In fact, another way to interpret "Slumdog Millionaire" would be as a fairy tale. Plot-wise, that's the way it's played out, but you must remember that most fairy tales are rooted first in nightmares. And if this story is any indication, there are plenty of those haunting the people of Mumbai.
Working from an screenplay by Simon Beaufoy that is adapted from Vikas Swarup's novel "Q and A," Boyle jumps back and forth through time quick enough and often enough to give the viewer whiplash. Uneducated young "slumdog" Jamal Malik (Dev Patel) is being interrogated at a police station minutes after appearing in the hot seat on India's most popular TV show, "Who Wants to be a Millionaire?". His crime? He got too many of the answers right.
Bam! Right from the beginning, the sociopolitical angle hits hard. English director Boyle, who never makes the same movie twice ("28 Days Later," "Trainspotting," "The Beach"), is on unfamiliar territory here in the buzzing, crazy metropolis of Mumbai. (The movie has added resonance now following the recent terrorist attacks on the Indian city.) But he feeds off the maximum energy of Mumbai and reflects it back twofold.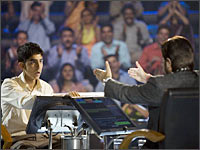 The simple, clever conceit of "Slumdog Millionaire" proves that what doesn't kill you will only make you stronger. As the movie progresses, Jamal's life from childhood to the present is as terrifying as his ascent to the country's most popular game show is unlikely. Each tragic moment of his life is attached to some trivial piece of information that gets burned inside his head for eternity. So how did he get all those questions right? Maybe he's telling the truth when he claims that the show just happened to ask only questions that he knew the answers to.
Boyle weaves a kinetic and wildly colorful tapestry in "Slumdog Millionaire" that's barely big enough to contain its bustling sounds and images. Each setpiece of Beaufoy's script highlights a different aspect of life in the cruel and unforgiving city, but its inhabitants seem to bounce back every time. He's got three young actors each playing Jamal, his brother Salim, and their friend Latika (which is why you won't see any of them nominated for anything), and the movie is jam-packed with enough life-changing moments for 10 screenplays.
As much of a downer as some of the plot developments are in "Slumdog," there are no shortage of critics calling it a "feel-good" movie. Ironic, considering the terror that some of its scenes achieve (uh oh, better add 'horror' to that list of genres). And while I won't go so far as to use that cheesy and overused catch phrase, I will say this: It had me on my feet. (Granted, I was watching it alone at my house and was tired of sitting down, but I was, nevertheless, standing up in front of the TV, rapt with attention!)
Boyle has made one of those rare movies that brings to life the sights, sounds, and smells of one specific place while also making a film that anyone anywhere can relate to. If you are wondering why I haven't mentioned subtitles up until now, it's because I almost forgot there were any. Foreign films are so commonly associated with "great, slow-moving works of art" that I almost forgot I had to read subtitles throughout "Slumdog Millionaire." That is because this movie is a big populist slab of entertainment that makes you want to stand up and cheer. Anyone that stays away from it because they have to read is…well…clearly not smart enough to win on "Who Wants to be a Millionaire?".
(Reviewer bias: I appeared last year on "Who Wants to be a Millionaire?" during Movie Week. My only comment on the authenticity of the Indian version in this film is that I would have liked to seen a brief mention of the screening process. Other than that, it was nice to see the movie use the same techniques to create tension that they use on the show!)