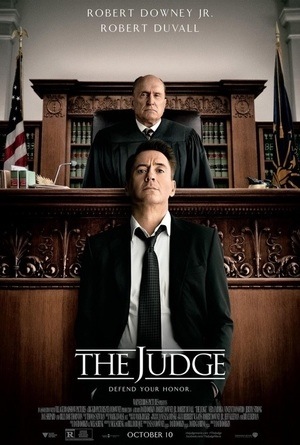 [Minor Rock Fist Down]
The Judge is a rigged game. It is loaded dice. It is a fixed roulette wheel. You might think you are playing, but in the end everything works out for the house.
Robert Downey Jr.'s new cinematic vehicle, gives the viewer just enough salt, just enough of the bile of family life, in an attempt to cover the overly manipulative and sentimental story. In spite of a remarkable cast, and a handful of exceptional moments, The Judge falls prey to the emotional wish fulfillment of most estranged father and son stories.
Hank Palmer (Downey Jr.) is a ruthless Chicago defense lawyer. His moral code is in question from the beginning, and we know this because he "accidentally" pees on the prosecuting attorney, a man who is not as attractive or as physically fit as Hank.
Hank is about to decimate the opposition in court, when he receives news that his mother has passed away. The well-tailored Hank is granted a continuance and returns to the small town that he ran away from so many years ago.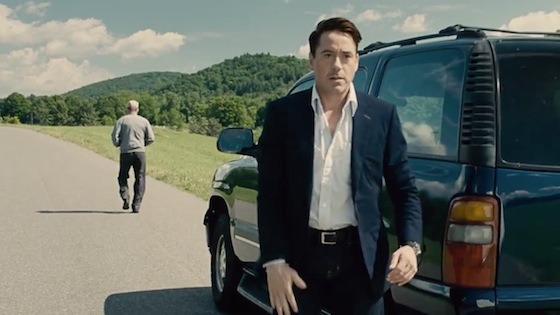 There he meets up with brothers Glen (Vincent D'Onofrio) and Dale (Jeremy Strong), high school sweetheart Samantha (Vera Farmiga), and his father, the gruff and unrelenting Judge Joseph Palmer (Robert Duvall).
The family endures the mother's funeral and Hank is about to escape the small Indiana town, when the Judge is called in for questioning. It seems that there has been an accident. Mark Blackwell, the case Judge Palmer got wrong 20 years back, is dead and there is blood on the bumper of the Judge's classic Caddie.
Hank, unable to leave his unappreciative father in the inept care of the small town defense lawyer C.P. Kennedy (Dax Shepard), stays on to defend Judge Palmer.
From here, the story folds in a reignited love interest, a possible love child, secret cancer, an accident that ended an athletic career, a collapsable-cup-toting legal rival, and parallels between Blackwell and Hank that caused a ruined relationship between Judge Palmer and his middle son.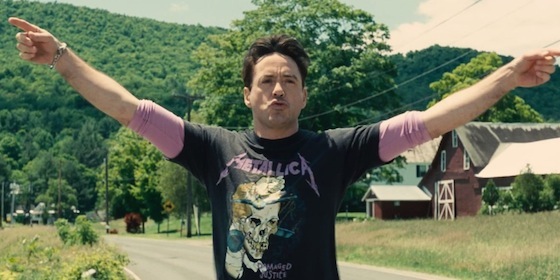 With all of the plates spinning on their delicate wooden dowels, it is a let down when none of them come crashing to the floor. That each lands softly in the hands of the deft performer is unbelievable and hints at narrative and visual trickery.
There is a scene or two that add a touch of acid to the sweetness of the story, including a moment when Hank discovers the ill and struggling Judge in the bathroom. Unfortunately these starker moments only attempt to cover the overwhelming sentimentality and quick emotional conversions of these characters. Director David Dobkin uses biological realities much the same way Judd Apatow uses potty language and weed talk, to cover up the fact that the story is as emotionally true as a filigreed Hallmark card.
If you want a film with solid performances, that will use every trick to manipulate your emotions, and will get you weeping for a predictable resolution on all narrative fronts, then The Judge should do the trick. For those looking for a little more honesty, you'll want to skip this one.