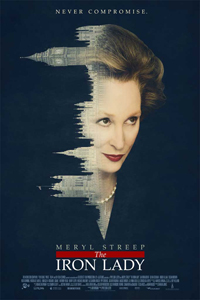 Going into The Iron Lady I was already skeptical. Meryl Streep in a British biopic about former Prime Minister Margaret Thatcher just sounds like a calculated layer cake of Oscar chum.
Thatcher was a divisive and controversial figure, but also a strong and powerful woman in politics at a time when political realm was still an undisputed boys club. In the years after her political career, she suffered from some dementia and wasn't often seen in public.
Take this character and put it in the hands of Meryl Streep, her very name is often equated with serious acting, and now you've got something that seems to be a magnet for Academy gold.
I may be right about the intentions behind making The Iron Lady, but I was surprised by Streep's performance and director Phyllida Lloyd's choices, and not in entirely pleasant ways.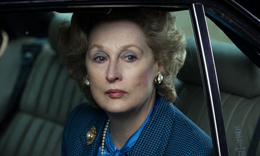 I will say that Streep gives an impressive performance. It's easy to dismiss any role that has an actor adopting an accent and distinctive voice as mimicry and caricature, but Streep does seem to get at something more fundamental in regards to Thatcher. Perhaps it a subtlety of mannerism or a commitment to the general way Thatcher spoke and behaved instead a specific phrase or behavior.
Streep's performance is often overshadowed by Lloyd's direction, which I can only describe as bizarre. Lloyd never commits to a visual style for her narrative.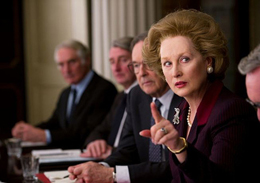 Sometimes The Iron Lady looks like a hard-hitting political drama, like the union busting scenes from Brassed Off or The Full Monty. Other times it looks like a psychological study of a conniving and emotionless tyrant, full of jump cuts and inserts of Streep's/Thatcher's disapproving sneer. There are even times when the lighting and framing takes on the air of a magical fantasy as Thatcher talks to her Mary Poppins-ish husband (Jim Broadbent), who acts as a spirit guide as Thatcher looks back and assesses her life.
Perhaps Lloyd's approach could have turned The Iron Lady into a fascinating pastiche, in which the style shifted to fit the moment, but still maintained enough visual cohesion to carry us through the story. Instead it just feels like a disjointed mess. Each scene disconnected from the next, and it makes it all but impossible to reconcile the young ambitious Thatcher with the obstinate Prime Minister Thatcher with the frail and hallucinatory elderly Thatcher. The visual styles are so distinct these become separate characters instead of facets of a complex whole.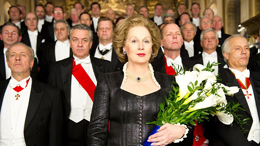 Lloyd somehow manages to make one of the most compelling and polarizing political figures in the late 20th century completely uninteresting by making her neither hateful nor sympathetic. Lloyd achieves the nearly impossible by taking a good performance of an already engaging character and somehow making it into a bland and lifeless shadow by never giving her film any stylistic integrity.
It's fine if a director wants to occasionally follow their whims to give added vibrancy to a specific scene, but it should never be to the detriment of the entire film. A weird and uninspired disappointment that wastes a surprisingly good performance from a talented veteran, The Iron Lady is a perfect example of how focusing too closely on the individual pieces can sometimes result in the failure of the whole.