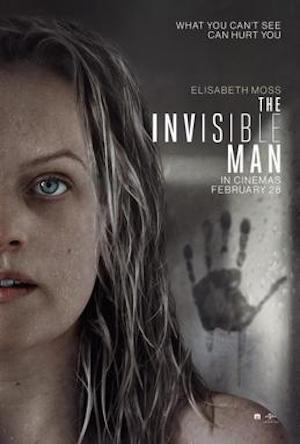 [Rating: Solid Rock Fist Up]
The last thing we expected to see any time soon was another movie with a Universal Classic Monsters title after the 2017 remake of The Mummy, starring Tom Cruise. But along comes The Invisible Man.
Initially I had no interest in seeing this until I saw the name on the top billing: Elisabeth Moss (Us, Hulu's The Handmaid's Tale). Her track record told me that I was in for at least a great performance. This time around, the invisible man character is reduced to a supporting role as Moss becomes the movie's focal point… a very smart move by the movie makers. What follows is a clever, suspenseful modern twist on an old tale that serves as a social commentary in this #MeToo generation.  
Despite the name, this science fiction horror film shares very little with the 1933 classic. Claude Rains is replaced by Oliver Jackson-Cohen (Netflix's The Haunting of Hill House), playing a narcissistic sociopath ex to Moss' Cecilia character who is trying to escape the abuse of this toxic relationship. After his suicide, Cecilia is increasingly tormented by an invisible entity, gaslighting her every turn. There's no man wrapped in cloth here. Instead, the camera cleverly uses large, empty spaces to represent someone that may be there.
The effects in the action scenes range from old school fishing line to green screen & the latest CGI to pull off the scenes of their interactions. From the titles sequence and opening scene throughout the film, two elements are key: suspense and sound. Some scenes are quiet and tense, reminiscent of A Quiet Place. Other scenes are moments of shock and surprise. Unlike many modern thrillers and horror movies, there's a use of "jump surprises" by bringing you to the edge of your seat, not to scare you (I jumped once) but to surprise you. And there are plenty of surprises here. It's almost the theme of the movie.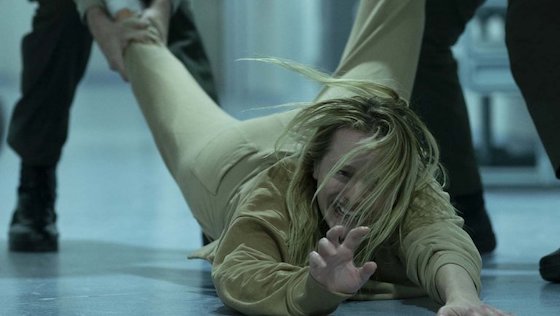 Director Leigh Whannell (Saw, Insidious, Upgrade) is in his element here. So is cinematographer Stefan Duscio. Some of the same type of camera work he used in Upgrade is utilized here as well. While there are scenes that took me out of the film, it was overall a good one. The haunting sounds mix well with Benjamin Wallfisch's (A Cure For Wellness, Hidden Figures, Blade Runner 2049) score.
As Cecilia is mentally hunted, no one believes her story. It's possible not many believed her accounts of mistreatment and mental anguish. It's very representative of the struggles of domestically abused women, with a theme that's not forced but more symbolic of a survivor who comes into her own power. This is definitely a must see.