"The Invention of Lying" sounds like one of those perfect high-concept scripts: In a society where everyone tells the truth, one man learns how to lie and takes full advantage of it. But there's so much more going on in the new movie from Ricky Gervais (star and creator of the original British The Office and HBO's Extras.
First off, the film (co-written and co-directed by Matthew Robinson) is one of those rare movies that leaves everything in the trailer behind in the first 10 or 15 minutes. Conceptually, "The Invention of Lying" has a lot more on its plate than you may think from watching the previews.
Because the movie has so many hardcore satirical and challenging concepts, Gervais and Robinson coat it in a sugary sweet romantic comedy confection and hope that will help some gloss over these conflicting, hard-to-swallow notions. Beneath the film's hard exterior lies a gooey center that doesn't connect with the big concept of the film without some major hiccups (most of which take place at the end).
In this fictional land, people not only have to tell the truth, but they also feel compelled to blurt out that truth at any given moment. This makes for some of the funniest scenes of the year in any film. At the start, "Lying" is that perfect high-concept comedy and the witty one-liners fly faster than sight gags in a Leslie Nielsen movie, except way smarter.
Gervais plays pudgy screenwriter Mark Bellison, who goes out on a date with the attractive and successful Anna (Jennifer Garner) who is—as it is agreed on by both of them—way out of his league. He works at the biggest movie company around, where authoritative men sit in armchairs in front of bare, white backgrounds and tell real stories about historical figures. (Because they are the only stories that are true, get it?)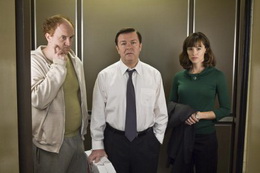 Even if Anna thinks Mark is funny (which she admits) and enjoys being in his company (which she also admits), she probably won't go out with him again because there's no future in having fat kids with snubby noses. The difference between the basic conceit of the film and the film as it is carried out is that all this telling the truth somehow makes these people dull, shallow as hell, and infuriatingly practical.
Leaving that flawed leap of logic alone, "Lying" bravely forges ahead, making all kinds of dead-frank observations and clever social commentary on just about everything. (This includes product placement for both Coca-Cola and Pepsi, whose too-honest company slogans are "Coke: It's very famous" and "Pepsi: For When They Don't Have Coke.")
Gervais' comic timing and dry delivery suits the material perfectly and, like last year's "Ghost Town," is able to make the most heinous behavior acceptable. He also delivers a fair amount of convincing range, especially in a scene with his sick mother in a hospital.
This is where I can't really speak in specifics about too much of the movie without ruining it. Suffice to say that there is an extreme amount of mixed emotions and uncomfortability going on as the movie rips the laughs out of you with painful force. There are more huge I-can't-believe-they-said-that laughs in this film than any other this year (except for maybe the shocking and confrontational "Bruno").
Without the ability to lie or exaggerate, there are no great works of art in this land.
What "Lying" ultimately does is point out through its myriad astute observations that lying (or fictional storytelling, as it could be called) is essential to the fabric of our society: Acting cheerful when you're in a bad mood is an act of selflessness that spares everybody the uncomfortable feeling of having to share your misery. Ironically, as Mark begins to lie, he starts caring about things. His greatest conflict is himself.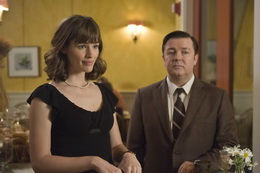 The movie strays then from its biting satire into a traditional romantic comedy where Mark wants Anna to want him for the right reasons. He wants her to fall in love with him because of his personality traits and not just because he is the only person with the power to tell the truth. On paper, it may have sounded like a good idea, but it seems like it should have been a different movie.
Just as Mark starts to outwardly resemble a very famous historical figure, it seems that the story may take another weird turn and get even more wickedly funny. Instead, it hits a brick wall and retreats.
"The Invention of Lying" could have been a grade-A spoof like an old Mel Brooks or Monty Python film, but its trying to reach a wide audience (already a challenge with a cult star like Gervais in the leading role) instead.
I can dig it. They want more people to see the movie. It's too bad, but there is enough greatness in this movie to give it a recommendation no matter what. I'll bemoan the ending forever (or until they change it on DVD…ha!), but right now I'm still wondering how a movie with this radical a subtext got made at all.