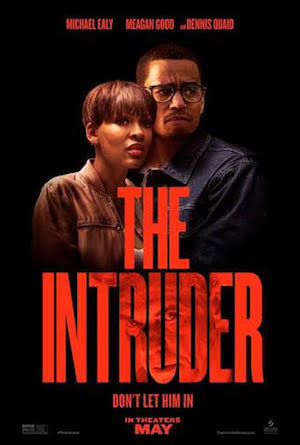 [Rating: Minor Rock Fist up]
The Intruder is a classic throwback to 80s and 90s psycho-thrillers when over the top obsessive maniacs set their targets on a couple and just let the tension and the freaky vibes fly. It's not a particularly memorable movie, but it sure is a hell of a lot of fun to watch and benefits from solid performances from its leads, including a monster performance by Dennis Quaid.

Scott and Annie Howard (Michael Ealy and Meagan Good, respectively) are a young couple ready to start their big life adventure together. Scott is coming off a job promotion so they decide it's time to invest in some property with some land outside of the city borders to enjoy life and raise a family. Unfortunately, the dude they are buying from, Charlie (Quaid), isn't quite ready to say goodbye to the property where he raised his own family under some pretty shady conditions.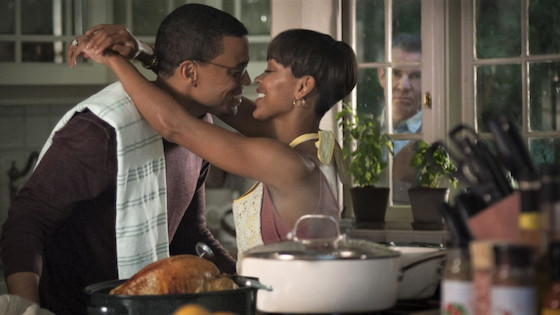 Charlie's obsession with his former house quickly transitions to Scott's beautiful wife, who sees Charlie as a wounded puppy who just needs some kindness and attention. But Scott seems to see Charlie for what he is — at least he thinks he does, turns out Charlie has way scarier skeletons in his closet than anyone could have imagines — and finds himself involved caught between Charlie's creep tactics and his wife's incredibly guilibilty.

Early and Good are perfectly cast here as the movie divides the proceedings point of view between the happy couple, each looking at Charlie differently, offering an ability to be creeped out on a couple of different levels. But this movie is all about Quaid's split personality performance — the man is an absolute beast in this movie. I guarantee you've never seen him like this, nor will you be able to forget about his performance no matter how many times you try and cleanse your palate with Innerspace (1987).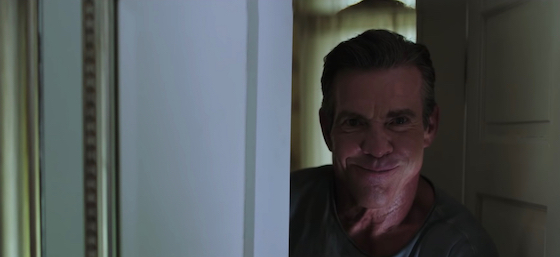 Director Deon Taylor (Meet the Blacks, Traffik) relishes the freedom he has within his paranoia playground. Working with a script from David Loughery, Taylor keeps the story simple, setting the stage and allowing the actors and the tension to take over. He implements familiar tropes from the thriller playbook and mixes in a few homages to thriller classics. There are several threads that could lead alert audiences to social reflections and discussions but Taylor never leans too heavily on them, letting the tension (and Quaid) be the stars of the flick.
The Intruder is never going to be confused with one of the great classic thrillers. There won't be any awards consideration, but that's okay. Accolades are really not what Taylor and his cast are going for. They want to freak you out and entertain the hell out of you and this movie accomplishes that, even if for a fleeting hour and forty minutes.
Check out my interview with director Deon Taylor on my podcast, Reel Hooligans.