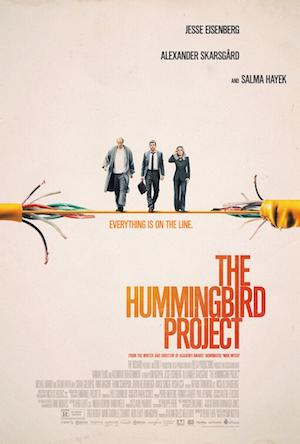 [Rating: Minor Rock Fist Up]
People with a huge chip on their shoulder always have something to prove. In writer-director Kim Nguyen's film The Hummingbird Project, that person is Vincent Zaleski ( played very credibly by Jesse Eisenberg, who covered similar wannabe tech-giant territory as Mark Zuckerberg in The Social Network).
He and his cousin Anton (played by Alexander Skarsgård, who turns in a convincing performance despite a distracting bald cap wig) work at a tech firm headed up by Eva Torres (an over-the-top Salma Hayek). While Vincent is the nobody trader who Anton helped get a job there, Anton is the resident coding genius who Eva is replying on the keep the company one step ahead of the competition. What she doesn't know is that the nobody is using his familial bond to lure away the genius, and they are about to embark on a hard-fought journey to create a faster web connection between the New York Stock Exchange and the Kansas Electronic Exchange, thereby allowing trades to happen just milliseconds earlier.
Considering all the technical lingo involved, Nguyen does a good job laying out the particulars of the cousins' race to lay fiber-optic cable halfway across the country and through a mountain range quicker than their former boss. When it comes to raising the stakes, however, things get a little cornier, with Torres showing up several times in remote locations to threaten Anton and/or taunt Vincent with "clever" secret messages. I understand the need to physically manifest these scenes – because repeated phone conversations, texts, and emails are not all that cinematic – but they ring a little false and illustrate moments where the movie is trying too hard.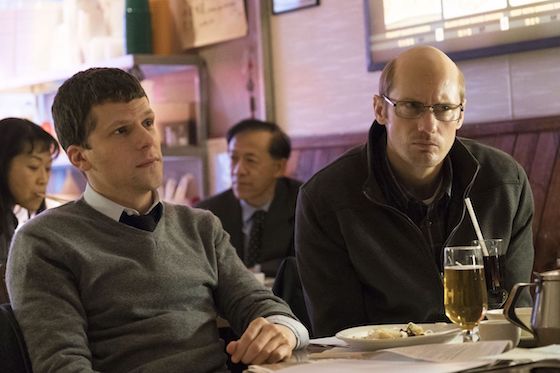 More interesting and successful is the tricky relationship between Vincent and Anton, their family history as second-generation immigrants, and Vincent's dogged determination to oversee every element of the operation himself and his inability to let go of his dream in the face of a life-changing medical diagnosis. It speaks to a familiar American do-or-die tendency, and is even more unsettling in the face of Vincent realizing the harm that his cable line is doing to the natural territory it must destroy and the cultural harm it does to everyone with differing ideals that stand in his way.
Skarsgård is effective, playing way against type as the nebbish programmer, and he has some nice scenes that give Anton more depth than the usual anti-social computer genius character that populates so many movies. One scene in particular, however, which sees him running from authorities in hot pursuit, is an example of Nguyen trying to unnaturally shoehorn too much comedy into the proceedings. Like some of Hayek's more conspicuous scenes, it feels forced.
Overall, The Hummingbird Project is an interesting enough, if predictable, rumination on the current state of the American dream. Although high-frequency trading is probably not something everybody can relate to, the idea of living up to a potential that's weaved into the fabric of your country's myth is.
Local note: The Kansas Electronic Exchange is a fictionalized version of the Kansas City Internet Exchange, which is located in Overland Park. Although there are some scenes in the movie set in Kansas, they were not filmed here. As locations, I suppose they are credible enough, but there's at least one Wizard of Oz/Dorothy reference, which is disappointing and expected.