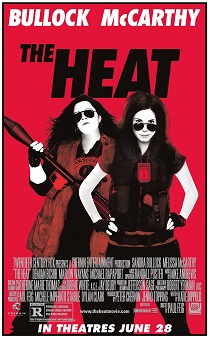 One of the secrets to Paul Feig's success as a comedic director and writer (his resume includes some of the best episodes of The Office, Freaks And Geeks, Arrested Development and Bridesmaids) is that he injects a lot of earnest and earned emotional moments into his work. Bridesmaids was a runaway success when it was released in 2011, and sure, it had a lot of big moments, gross out laughs and broad comedy, but it also had some very human moments of failure and disappointment. It was even-tempered and relatable, which was just as important as the improvisation featured heavily throughout.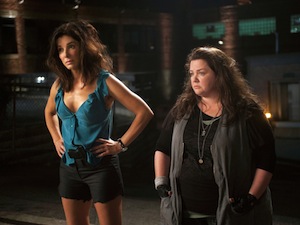 With The Heat, only half of that formula is present. Melissa McCarthy returns, now a proven, bankable comedy actress, her talents are The Heat's primary source of humor. Sandra Bullock plays the straight character to McCarthy's unhinged Boston street cop, a buttoned-up FBI agent who plays by the rules and yadda-yadda-yadda. It's a remarkably unremarkable plot, but so are a lot of comedies, the good ones managing to tell a story well or do something interesting with their leads and supporting cast.
Unfortunately The Heat does neither. Its tone is all over the place, opening with a '70s cop show vibe that quickly turns into a standard buddy cop movie without any of the chemistry. The exchanges between Bullock and McCarthy are so wooden and the plot is so telegraphed, with a third act plot twist and ending that you can predict within the first 15 minutes.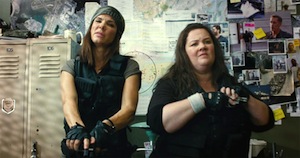 What's more, a cast that includes Michael Rapaport, Jane Curtin, Bill Burr, Marlon Wayans and Dan Bakkedahl – one of the best comedic character actors working – is absolutely wasted in The Heat. The movie is so phenomenally average and uninspired, if you didn't know it was behind the same people who did Bridesmaids you would assume it was done by a different, less talented group of people.
The Heat isn't offensively unfunny. It doesn't try to do something different and fail, and it certainly doesn't  inject a lot of humanity or personality into its cast. It is merely average. Unexceptional. And easily forgettable amongst the other movies this summer. It's safe enough that it will likely make a lot of money, maybe even be the summer's surprise hit, but that's what safety gets you. At least McCarthy's jokes don't come at her own expense, unlike Identity Thief.