M. Night Shyamalan movies make great trailers. He's all about the high-concept hook—an easy-to-explain premise that sucks you in right away. The thing that the movie studio is selling this time out is that "The Happening," starring Mark Wahlberg and Zooey Deschanel, is his first rated-R effort. I have to admit, the idea perked my ears up a bit. Unfortunately, rather than being an opportunity-opening device for writer/director Shyamalan to pull out of his toolbox, the graphic violence that got him that rating is more like a monkey wrench.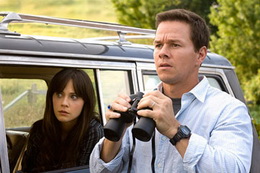 "The Lady in the Water," his tepid and silly last effort, proved that the cracks in Shyamalan's methodology were really showing, but "The Happening" exposes them all. The whole affair comes off as more than just a little desperate. I told another critic after the screening that it seemed like a B-movie dressed up in A-list clothes. Then I read an interview with Shyamalan where he so much as admitted that's exactly what it was. There's nothing wrong with a B-movie, but "The Happening" isn't as much fun as a B-movie should be (certainly not nearly as fun or twisted as last year's "Grindhouse"). Most importantly, it just can't keep its intended tone of paranoia throughout the movie.
Something (a virus? A terrorist attack?) is spreading across the East Coast. The promising opening features haunting images of construction workers inexplicably jumping to their death off a high-rise, and a woman with dead eyes who shoves a hair pin into her neck. Why are people committing suicide at the drop of a hat in New York City's Central Park? No one knows, but I'll bet Philadelphia science teacher Elliot Moore (Wahlberg) will figure it out by the end. His first appearance, in his classroom, starts off on uneasy footing (not good "uneasy" as in "I'm so scared my stomach's tied in knots," but more like "Are they kidding?"), with Wahlberg not coming off particularly convincingly, and much of the dialogue seems forced into the actors' mouths for foreshadowing's sake.
The movie is about Elliot and the troubled relationship with his wife Alma (Deschanel), as much as it is about the mysterious tragedy. Deschanel plays her scenes for all they are worth, but Wahlberg is holding back, as if somebody hasn't told him whether it's all a joke or not. John Leguizamo breathes life into his small part as a concerned family man, but is undone by a plot choice that's completely contrived and way too predictable.
The good news? There's no twist. Nothing plot-wise at the end of the movie (except for the requisite "he's back" cheap horror cliché—can you believe it?) feels out of place because the ending seems like a quiet, natural extension of the miniscule amount of plot development that came before it. That's not to say the ending isn't awkward, however. It stinks. It is not the payoff that the movie so desperately needs after 90 minutes that feel like two hours. It doesn't change everything we knew about the premise, though, so it's not a twist.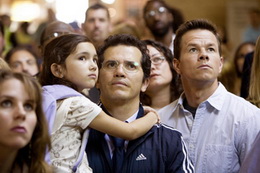 For the first time, Shyamalan doesn't seem like he has total control over his storytelling. Even when his twists didn't pay off, the rest of his movies always featured a skillful buildup of tension. "The Happening" starts with some shocking images and then just keeps repeating those images with wildly varying degrees of success.
The R-rating becomes a crutch for the director to fall back on (and it makes a great advertising gimmick). In reality, all it means for the movie is that when 'the happening' takes hold of its victims, Shyamalan gets to show exactly what happens to them, no matter how gory it may get. For all the random death that happens in "The Happening," there is surprisingly little dread surrounding it. Some of the scenes that were intended to be shocking (like some cell phone video footage shot at a zoo) have the opposite effect, as they garner unintended laughter. And, no, this is not like some gonzo moment in a low-budget horror film that's so absurd or uncomfortable that it's funny—this is pure ineptness. Shyamalan can't get his tone straight, and poor Betty Buckley's spooky old-woman character teeters on parody for a while before abandoning all hope of a scary moment and diving head-first into full-on comic territory. Literally.
James Newton Howard's string-heavy score is so inappropriate and melodramatic at times that it seems like filmmaker and composer are actually at odds. Perhaps Shyamalan told him to go over the top with some of the scenes after he realized they weren't working as straight drama.
Shyamalan gets this comparison a lot, and I've made it as well, but it's so damn perfect—his ideas are akin to a half-hour episode of "The Twilight Zone." Sometimes he is able to weave his themes seamlessly in and out of the thriller plot, but not here, where the message is both sickly sweet and heavy-handed at the same time. "The Happening" is another movie of dwindling returns that finds the once-heralded auteur holding a sad, empty bag of tricks.