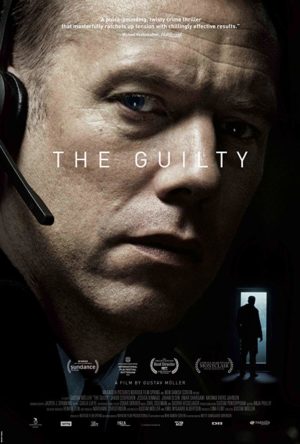 [Rating: Rock Fist Way Up]

I have a weird thing with foreign films. On a cerebral level, I love them. On a practical level, reading subtitles left to right on a giant screen actually hypnotizes me, and I'm asleep in under 30 minutes.
Not so with The Guilty, a Swedish movie rightfully generating Oscar buzz, after winning a prize at almost every festival where it screens, including Sundance. There are no soliloquies, no monologues – there's no dialogue long enough to require more than a necessary glance at the text, while staying fully focused on the tense, intimate camera work.
Swedish actor Jakob Cedergren plays Asgar Holm, (like Sherlock?) a police officer sentenced to emergency call duty (similar to a 911 operator) in Copenhagen, until some messy situation is sorted. Holm enjoys his veteran status – he takes pride in using his instincts to cut through the pretense of most emergency calls, efficiently sorting and solving problems.
On his last night on this job – which he clearly finds beneath him– he receives a tearful call from a woman kidnapped by a man she knows. All of Holm's police instincts rise to the occasion – he is determined to save this woman even though he is trapped behind a desk.
The film is a perfect balance of tension – it's never too much to bear, but there's no looking away, even for a second (admittedly, partly because the dialogue requires reading). From the first scene, director Gustav Möller acclimates the audience to the stress of the job, adjusting expectations from that of civilian to that of someone who deals with the chaos in society.
Möller stays outside the action, faithfully and exclusively committed to only Holm's point of view, and trapping us in that call center with him. And it works, because this is the reality of a person with that job – a desperate desire to do everything possible, while stuck within the boundaries of the environment.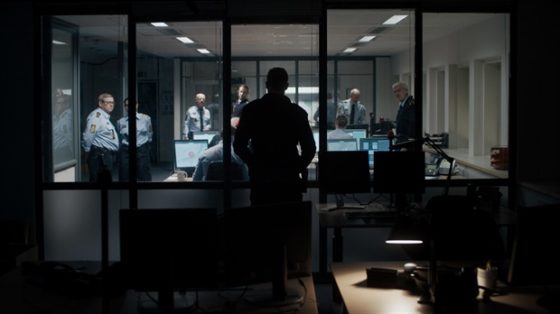 But Holm doesn't really consider himself bound, and uses every tool he has to rescue Iben (an emotional vocal performance by Jessica Dinnage), a mother of two whose violent ex-husband has kidnapped her. Holm is clearly used to doing things himself, and in this situation he is dependent on others to execute on his behalf – while they clearly question his judgment.
And that question is a legitimate one. Is this man trying to save her life because it's his job, or is this hubris and the need to be a hero? As Holm takes increasingly drastic moves to rescue Iben, the reason for protocol and emotional distance between hero and victim is underscored.
What starts as a thrilling drama becomes a uncomfortable character examination – what motivates this guy? I've never seen Cedergren in anything, and Holm's journey to self-awareness is excellent in its subtlety and the build to unavoidable truths.
I particularly appreciated the unflinching look at the realities of emergency services. Nobody is spared, and the emotional havoc of such a job isn't glossed over for a prettier audience experience. This is not glamorous work, and the bigger the emergency, the more brutal the emotional toll.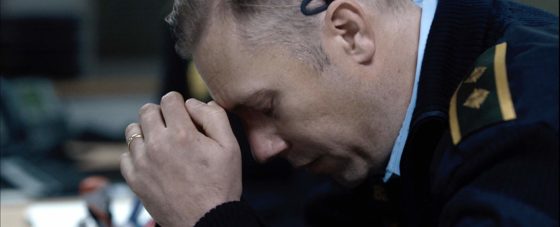 The Guilty also slides in a remarkably relaxed commentary about police brutality. Perhaps because it's a Swedish movie, and not American, it doesn't feel preachy or forced. It isn't one of two possible ideologies, it's just a story that says, "Not all cops, but certainly some cops."
Möller has almost no film credits to his name (he's only 30), but I can't wait to see more from this guy (although I have no interest in the inevitable American remake in a few years). It took him very little – just a room, a solid actor, and a hard look at heroism – to hook me.