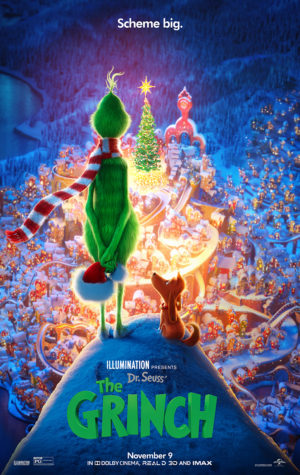 [Rating: Minor Rock Fist Down] 
Gather 'round readers to hear what I say, when I saw a new Grinch movie one winter's day. (There was a moment I thought I would do this entire review in rhyme, but it's much harder than you think.)
Dr. Seuss' immortal tale of the Grinch and his plot to steal Christmas from the Whos is back in yet another adaptation. This time it takes the form of computer-generated animation, and is simply called Dr. Seuss' The Grinch. Directed by Scott Mosier and Yarrow Cheney, and brought to life by Illumination (the studio that brings on every parents' fever-induced nightmares via the Minions), this new story of stealing Christmas is a humbug in itself. It's soulless, driven off the road by lots of failed laughs, and somehow can't form any real substance, even though it's adapted from a story that is cherished every Christmas season.
If you don't know the story of the Grinch and his plot to steal Christmas … well that's about all there is to it. The Grinch (voiced by Benedict Cumberbatch) is Whoville's curmudgeon who lives up in his cave and rarely comes down except to harass the citizens and buy his groceries. He's not feared by the townspeople at all. They rarely notice him. One citizen, Bricklebaum (Kenan Thompson) even goes to lengths to say how him and the Grinch are best friends.
High up in his cave, all the Grinch wants to do is be left alone with his faithful pooch, Max. Meanwhile, young Cindy Lou Who (Cameron Seely) concocts a plan to meet Santa Claus with her own eyes and ask him to help out her single mother Donna (Rashida Jones), who works too hard for the family. As the story is set in motion, the Grinch understands the capitalistic and idolization of Christmas has become to much for him and the Whos, and hatches his own plan to of course, steal Christmas.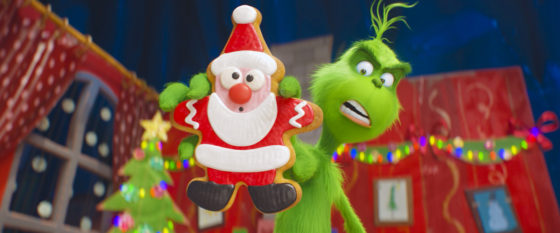 A pretty average extension of the same old story, but here lies the problem — how do you fill in a fifty page book for 90 minutes? I feel the 2000 film did a wonderful job in solving this problem, giving the Grinch a complete background and having him join in on the holiday cheer despite his misgivings. For the animated flick here, most of the time is spent on Cindy Lou teaming up with her friends to catch Santa, and the Grinch making his plans. Really it takes the Grinch at least a handful of days to come up with everything. Alongside of this, Grinch meets a new character, a fat reindeer named Fred who provides a lot of the humor that you would expect from the comic relief. Fred can't talk and neither can Max, yet, their humor works and actually does something meaningful compared to what happens with the Grinch.
The technical aspects of this movie are actually really impressive. The animation of the city lighting up in bright wonder is marvelous, the fur detail on both the Grinch and some of the Whos is an interesting choice, and for an animated feature, there's a moment or two of expressive cinematography, especially one moment when the Grinch stands atop the mountain puzzling about what to do.
As expected, there are things fans will miss such as the exclusion of "You're a Mean One, Mr. Grinch" from any significant part of the story. It's there, but it's placed in the first moments and totally forgotten about after that. A lot of the music with lyrics in this movie don't work. It's doubtful, for example, that there's any tunes that kids are going to want to annoyingly sing to their parents about for the rest of the year. Also, Cumberbatch is a terrible casting choice. His American accent is borderline Bill Hader and does nothing to cause intimidation at all. He's a toned down Grinch. I want a mean Grinch, not a mousey little mama's boy.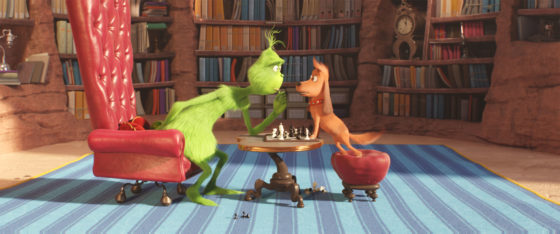 Maybe I'm my own Grinch for not liking this. It's going to make a killing at the box office because every child in the country will want to see it, but it is a totally lackluster experience. Illumination took a story that works in a 20-minute time frame and stretched it to something that just repeats itself, with jokes that fall flat, and a Grinch who's more remorseful for everything he does, not just the infamous night he stole Christmas.
Bah humbug indeed.