F. Scott Fitzgerald opens his novel The Great Gatsby with the following passage.
In my younger and more vulnerable years my father gave me some advice that I've been turning over in my mind ever since.
"Whenever you feel like criticizing any one," he told me, "just remember that all the people in this world haven't had the advantages that you've had."
I never received this advice from my own father, and even if I had, Baz Lurhmann has, for many years, had every advantage available, so my criticism can flow without restraint.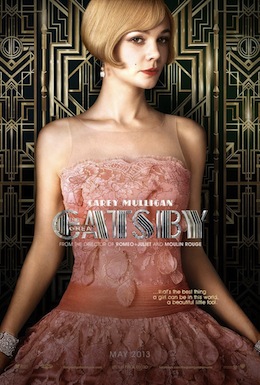 With his film version of The Great Gatsby, Baz Lurhmann creates a glittery and overstuffed adaptation that has all of the facts of the book right, while missing the skepticism and queries posed by its narrator and author.
In the novel, Nick Carraway's (Tobey Maguire) ability to reserve judgment allows him to stand in as an observer. The audience or reader can judge whether the characters with their affairs, lavish parties and impossible fantasies are beautiful or damned.
Lurhmann makes Nick too one-sided, and Tobey Maguire compresses him further, creating nothing more than a Jay Gatsby (Leonardo DiCaprio) fanboy. Lines such as "I was within and without, simultaneously enchanted and repelled by the inexhaustible variety of life," a line which Lurhmann uses almost word for word in his film, falls flat because the screen Nick is so obviously not repelled. There is nothing to balance the exaltation of wealth and excess.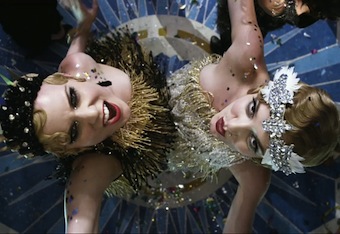 To illustrate this point further, the scene that this line comes from takes place in the apartment that Tom Buchanan (Joel Edgerton) keeps for Myrtle Wilson (Isla Fisher), his mistress.
Myrtle has invited a few friends over; one of them is Mr McKee (Eden Falk), a "pale, feminine man from the flat below." Nick notices a spot of shaving cream on McKee's face. This is a tiny yet important detail, because it appears in the film.
The afternoon drags into the evening and as the guests pass out from exhaustion or alcohol, Lurhmann has Nick engage in a flamboyant gesture to remove the bit of shaving cream. It's used to accentuate the nature of the party and music. In the book the removal is more subdued.
Mr McKee was asleep on the chair with his fists clenched in his lap, like a photograph of a man of action. Taking out my handkerchief I wiped from his cheek the remains of the spot of dried lather that had worried me all afternoon.
The action is quiet, gentle and unnoticed by the others. Many have speculated about the sexual orientation of Nick Carraway because of this small yet rich passage.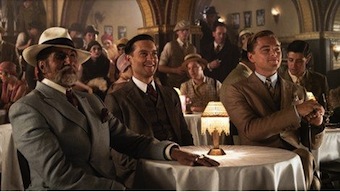 This is what I mean when I say that Baz Lurhmann got the facts right and the content wrong. Revelers have surrounded Nick all day, and yet he has fixated on a small detail like the touch of shaving cream on a man's face. Lurhmann puts the action in, but has made it a vulgar embrace of the party, and Nick's own drunkenness.
This vulgarity extends to Lurhmann's visuals. The use of 3D is tawdry and grotesque. It has all of the kitsch of 1970's Saturday science fiction fare, but is so misplaced that you cannot help but be embarrassed for the director's stupidity and lack of taste.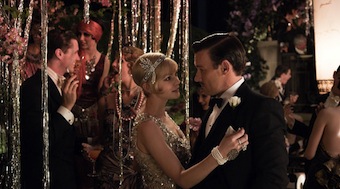 The technical needs of the 3D and highly composited shots also have another draw back. If you have watched a trailer for this film and wondered how you could be bored even though confetti and singers and jazz musicians are filling the screen it is because every shot must be controlled in such a way as to stifle the energy of each moment. There are no energetic, accidental, or serendipitous camera moves. There can't be if the 3D is to work.
As for the acting, Carey Mulligan and Joel Edgerton are the only two standouts in the entire film. Mulligan occasionally falls victim to Lurhmann's direction, but both she and Edgerton are able to make something of their characters in spite of the film. Leonardo DiCaprio and Tobey Maguire are not so lucky.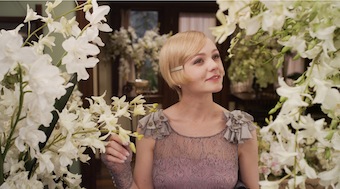 Though DiCaprio has a scene or two in which he's able throw off Lurhmann's bonds and make something of Jay Gatsby, for the most part his hopeful dreamer version of Gatsby is flat to off-putting. Maguire just seems like an after thought, and the idiotic framing device that Lurhmann places around the film, that of Nick writing the novel from an asylum, makes the character unworkable even for a good actor.
Since our film takes a literary bent this time around. I'd like to end with a moment from another work from the 1920s, that of In Our Time and more specifically "Big Two-Hearted River: Part II" by Ernest Hemingway.
Here another fictional Nick has just been out fly-fishing and has caught two trout. He cleans them and throws the guts up on shore, then rinses them in the stream.
He washed the trout in the stream. When he held them back up in the water they looked like live fish. Their color was not gone yet.
Hemingway, you should have written this review of The Great Gatsby, because I couldn't have said it any better. Baz Lurhmann has gutted Gatsby and though its color has not yet faded this cinematic version is hollow and dead.