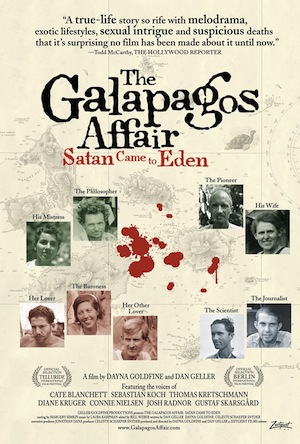 The Galapagos Affair:  Satan Came to Eden, directed by Dan Geller and Dayna Goldfine, tells the story of Dr. Fredrich Ritter and his lover Dore Strauch and their search for isolated life.  The two leave their conventional lives in Germany and travel to an uninhabited island, Floreana, in the Galapagos to start their new life away from society.  To their dismay, they are soon joined by another couple and eventually a Baroness and her lovers.  Island life becomes hard for all that inhabit Floreana, and turmoil soon begins with a disappearance, potentially linked to murder.  Lots of mystery surrounds the island and what actually happened there in 1934.
The use of found footage, photographs, and journal entries from all the inhabitants help drive the story along and give light to what living on the island was really like.  It is hard to determine who you should or should not discredit because some stories don't fully match up, which makes it almost a who-done-it for the viewers. Along with the found footage is interviews with the children that grew up on the island, which gives more insight into the island life.  The film does get a little he said/she said at times but sheds light onto this still unsolved mystery.
The Galapagos Affair:  Satan Came to Eden plays at the Kansas City FilmFest on April 10 at 3:15 PM and April 12 at 6:00 PM. Click here for tickets and information.