Here's a post about the validity of the film's "documentary footage" and true story claim. Review below.
Milla Jovovich, bathed in white light, steps into the foreground. As the camera circles her and abruptly changes angles, the actress delivers a spiel about the film's production, its authenticity, our freedom to draw our own conclusions, and then wraps things up with the caveat that "some of what [we]'re about to see is disturbing."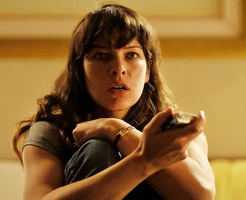 If you start things off with a proclamation like that, you'd better have the goods to back it up.
Set in a small town in northern Alaska in October 2000, the movie purports to use real video and audio from various interviews conducted by Dr. Abbey Tyler with several of her patients who were experiencing alien encounters in conjunction with dramatizations of those interviews and events. With that premise, one would think having convincing documentary footage would be the logical place to start. One would be wrong.
Right off the bat, "The Fourth Kind" can't get its act together. The footage that kicks off the actual feature is of Dr. Tyler being interviewed by the film's director, Olatunde Osunsanmi, and it's so awkward and obviously scripted that the immediate effect is incredulity.
This persists throughout the entire film. None of the footage is convincing and the insinuation that it's authentic becomes insulting. It doesn't do itself any favors when it goes into split screen, either, showing the dramatized action alongside its allegedly real counterpart, often revealing the former to be more startling.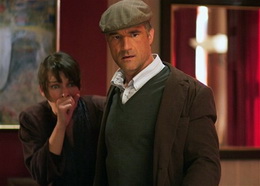 With that crippling problem set aside, Jovovich, playing Dr. Tyler, turns in a surprisingly decent performance. She's convincing as a woman grieving the death of her husband while juggling motherhood and her duties as a psychologist.
Elias Koteas is good, too, as her visiting colleague who champions hard evidence, the scientific method and…yet…denies the validity of his own extraterrestrial encounter later on in the film.
And Hakeem Kae-Kazim as Dr. Awolowa Odusami (said to be an alias), a scholar of ancient languages, provided the film's one sincere moment of intrigue and disturbance when he discussed the relationship between aliens and ancient Sumeria.
But then we have Will Patton as Sheriff August (another alias) who brings things to a screeching halt with his self-aware, arbitrarily hostile and unreasonable antics which make no sense and do further damage to the credibility the film so desperately needs.
He acts the way only a character in a bad movie would: ignoring evidence, making hasty, irrational decisions that negatively affect just about everyone, withholding basic information about Tyler's husband's death without purpose. Did Osunsanmi honestly think we wouldn't find his character insufferable?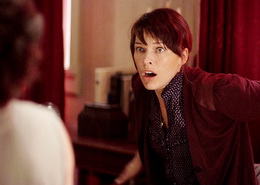 If for nothing else, the film fails by not living up to its own hefty proclamation. It isn't scary in the slightest. The interviews seem fake and so much of the action borrows from "The Exorcist" and other possession films that it's laughable. The scares that do occur are simply surprises and couldn't haunt you if they wanted to.
I have a friend who's never watched "E.T." all the way through because he's terrified of aliens. Just the other day, he was whining to me about being bullied into seeing "Signs" in theaters and how it nearly ruined his life. This wouldn't faze him.