How does one make lines upon lines of computer code exciting to the eye? The focus of The Fifth Estate, WikiLeaks and its enigmatic founder Julian Assange (Benedict Cumberbatch), is comprised largely of static visuals, men sitting in coffee shops or giving press conferences. When director Bill Condon does employ the visual metaphors of infinite computer monitors on infinite desks it smacks more than a bit oxymoronic.
In The Fifth Estate, Bill Condon takes the viewer from the early days of WikiLeaks in 2007 up through the release of the Afghanistan war logs and United States embassy cables in 2011. Though these were some of the most stunning leaks of information in history, and each gave insight into the innerworkings of many of the global governmental forces, the focus of Condon's film stayed on Julian Assange and his partner Daniel Berg (Daniel Brühl).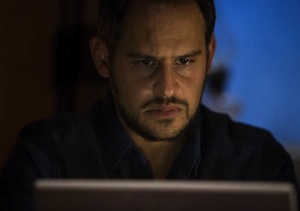 Assange and Berg type away at their computers as a series of leaks with varying levels of global impact come to them. They work in art collectives in Berlin, coffee shops in London, cottages in Reykjavik. Though the impact of leaks from the international banking firm Julius Baer, or the "far right" British National Party are undeniably important, they are not striking to the eye.
Condon tries to punch up the visual impact of the process through which WikiLeaks gets and verifies its leaks by showing us a virtual world filled with infinite desks, each with a computer monitor and a buzz with activity. Because of the importance of the leaks, the visuals seem heavy handed and distract from the content. It doesn't help that these scenes look like something out of the first installment of The Matrix.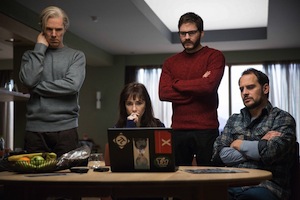 As another desperate attempt to break the monotony of guys typing and frowning at their computers, Condon crams a love story into the mix between Berg and his girlfriend Anke Domscheit (Alicia Vikander). The unintentionally awkward sex scene between Berg and Domscheit had most of the audience tittering uncomfortably.
Awkward just about sums up The Fifth Estate. Perhaps it is the unfilmable nature of the subject, or the fact that Condon tried to stay largely neutral about Assange and WikiLeaks, or the forced visuals and love story, or even our lack of historical perspective on these recent events, whichever it is you should take Julian Assange's advice at the end of The Fifth Estate. Instead of sitting through this strange and ineffective film, just find out the story for yourself.